Pros advice
Edible golf course? Yep, it exists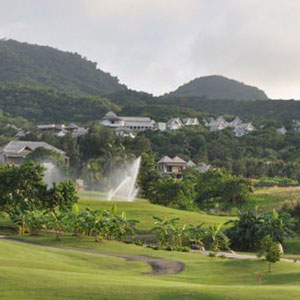 Ignore the lure of hotdogs and greasy snack foods at the turn, a golf course in the West Indies actively encourages players to pluck a variety of fresh fruits from the greens while they enjoy their round.
Mangos, bananas, papayas – all these succulent healthy fruits are here to be enjoyed at Irie Fields, located at Kittitian Hill on St. Kitts Island; a unique, par 71, 18-hole course designed by the legendary Tour player Ian Woosnam.
Many believe this to be the world's most edible 'pick-as-you-play' golf course, boasting over 70 acres of tropical fruit orchards and uninterrupted farmland. However, Irie Fields is not just the word's first edible golf course, but also the first course to acquire certification in the Golf Environment Organisation's LEGACY Program, which showcases the world's most sustainable golf development. This means the course is maintained without the use of chemical pesticides or fertilisers and uses a water-conserving irrigation system.
And for those who are worried they wouldn't know whether a mango dangling from a nearby bush is ripe enough to pluck, don't despair; signs are posted which indicate what is ripe enough to eat.
Plus the caddies, who know each season's harvests, are on hand to provide guidance on both club and fruit selection.
So the next time you're planning a golf holiday, perhaps you'd consider this little gem of a place. It sounds almost as sweet as the fruit which grows on its greens.
Latest News
OG News: Jarrod Lyle confirms he's in "palliative care"

The golf world, and many out of it, have been left rocked by the news that Jarrod Lyle is going into palliative care after claiming he is "no longer able to fight."
Read more

OG News: Two events left for McDowell to secure PGA Tour card

Graeme McDowell will have just two events to secure a PGA Tour card which would enable him to play in the United States next year after failing to qualify for next week's USPGA Championship in Missouri.
Read more

OG News: Leona & Lisa Maguire sign deals with Puma Golf

PUMA Golf a leader in golf apparel, footwear and accessories are pleased to announce the signing of sisters Leona & Lisa Maguire with immediate effect.
Read more
club.news.more
Latest Videos
Video: Callaway Chrome Soft & Chrome Soft X

Chrome Soft Golf Balls combine Tour-proven performance with unparalleled feel and exceptional mis-hit forgiveness. Everything about the ball that changed the ball is better because of the innovation at every layer, starting with Callaway's groundbreaking new Graphene Dual SoftFast.
Read more

Video: Cobra Golf KING F8 Iron Tech

KING® F8 Variable and ONE Length™ irons are equipped with COBRA CONNECT™. Automatic shot tracking technology Powered By Arccos™.
Read more

Video: Octagon

The driver face is outdated. TaylorMade thinks its found the solution and sat down with five of its biggest players to see their reactions as the most twisted driver innovation is revealed. Are you ready to see?
Read more
club.news.more