Charley Hull embracing 'favourite' tag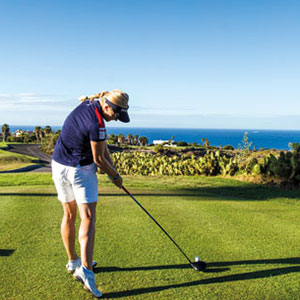 You only have to look into Charley Hull's eyes to know the 18-year-old is a fearless competitor on the golf course. And that could well prove pivotal as she embarks on a quest to capture the Ladies Masters trophy on the Gold Coast this week, with many placing her as favourite for the victory.
Golf is enjoying somewhat of a boom period for young female golfers coming through the ranks, with 17-year-old New Zealander Lydia Ko currently World No.1, although Hull herself is no stranger to success.
She topped the Order of Merit on the Ladies European Tour (LET) in 2014 in only her second year as a professional.
And just a week removed from taking on a field which included Ko and Karrie Webb at the Women's Australian Open, Hull will be locking horns with defending champion Cheyenne Woods at Royal Pines – a contest the Englishwoman is relishing.
However some are concerned that Hull will struggle as she takes to the field having been labelled favourite for the win. Her critics have rightly countered these grumblings of discontent by pointing out that, despite a poor showing at the LPGA Q-School last year, Hull roared back to claim the LET Order of Merit just a few days later.
"It's a good thing because it shows that I've been playing well last year," said Hull.
Hull was victorious at the LET event in Morocco last year and believes she comes to the Gold Coast a better player than she was 12 months ago when she finished tied for 10th.
"I learnt if you don't have a good week, there's always another week," she said. "I feel my swings improved a lot ... looking forward to seeing how it goes this year."
Hull's main rivals at Royal Pines will be South African World No.29 Lee-Anne Pace, the highest-ranking player in the field, English veteran Laura Davies, Australian Rachel Hetherington and defending champion Cheyenne Woods. A tough field which should throw up some exciting golf.
But there is another factor to consider here, too, as Hull is also battling an injury to her right shoulder which has hampered her build-up to the event.
"Today's the first day I've been able to see the golf course," she said. "I hurt my back and my neck and I haven't been able to hit many balls. It's a bit annoying.
"That's how it goes sometimes. It's affecting my swing a little bit but hopefully it'll be alright."
The 2015 Ladies Masters tees off on Thursday from 0700 with Hull drawn in the afternoon groups alongside Australia's Kristie Smith and China's Yan Jing.
Charley Hull is a Titleist Tour player who uses the hugely-popular V1x golf balls, along with Titleist's awesome 913 range. She also has Vokey wedges, 714 MB Irons and Scotty Cameron Newport Tour Putter in her bag.
Hull is a life-long Liverpool FC supporter and tries to watch the team whenever she's not on the golf course.
Latest News
OG News: Jarrod Lyle confirms he's in "palliative care"

The golf world, and many out of it, have been left rocked by the news that Jarrod Lyle is going into palliative care after claiming he is "no longer able to fight."
Read more

OG News: Two events left for McDowell to secure PGA Tour card

Graeme McDowell will have just two events to secure a PGA Tour card which would enable him to play in the United States next year after failing to qualify for next week's USPGA Championship in Missouri.
Read more

OG News: Leona & Lisa Maguire sign deals with Puma Golf

PUMA Golf a leader in golf apparel, footwear and accessories are pleased to announce the signing of sisters Leona & Lisa Maguire with immediate effect.
Read more
club.news.more
Latest Videos
Video: Callaway Chrome Soft & Chrome Soft X

Chrome Soft Golf Balls combine Tour-proven performance with unparalleled feel and exceptional mis-hit forgiveness. Everything about the ball that changed the ball is better because of the innovation at every layer, starting with Callaway's groundbreaking new Graphene Dual SoftFast.
Read more

Video: Cobra Golf KING F8 Iron Tech

KING® F8 Variable and ONE Length™ irons are equipped with COBRA CONNECT™. Automatic shot tracking technology Powered By Arccos™.
Read more

Video: Octagon

The driver face is outdated. TaylorMade thinks its found the solution and sat down with five of its biggest players to see their reactions as the most twisted driver innovation is revealed. Are you ready to see?
Read more
club.news.more