Celebrity Golf Day
Golfing legend Tony Jacklin CBE took some time out of his schedule to meet the media and answer fans' burning questions when he took to the greens of Thorndon Park Golf Club in Brentwood, Essex, partaking in a fun media event hosted by OnlineGolf.co.uk.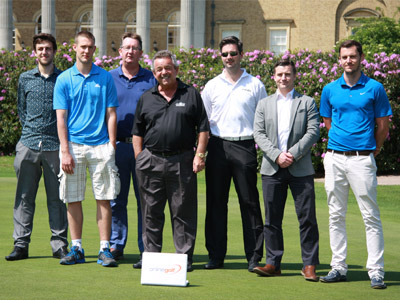 With OnlineGolf recently launching a fresh, new-look website, the purpose of this event was to introduce the media to the brand and let them take a closer look at what is on offer with 'hands-on' experience using an assortment of golf equipment available on the website while playing alongside a legend of the game in Tony.
Jacklin played a relaxed nine holes of golf alongside five highly-esteemed attending journalists from the Mail Online, The Guardian, Today's Golfer, SportsVibe, Golf News and the National Club Golfer, before settling down to answer their questions both face-to-face and on the phone.
However, it wasn't long before the most successful Ryder Cup captain of all time was back in front of the camera, this time replying to questions sent in by fans via the OnlineGolf.co.uk Facebook page.
And despite our best efforts, we just couldn't resist throwing down a putting challenge to the two-time major winner. The challenge can be viewed exclusively on the OnlineGolf.co.uk website along with more exclusive video content to follow over the coming weeks so keep checking back often as to not miss a single moment.
"The Celebrity golf day with the legendry Tony Jacklin was a fantastic day at Thorndon Golf Club," said James Duggan, Online Marketing Manager at OnlineGolf.co.uk. "We put the day together to help us launch OnlineGolf's new brand colours and to introduce the media to the brand."
"The weather was perfect and Tony Jacklin had lots of great tips and advice for all our golfers over the course of the day…Tony definitely hasn't lost his touch!"
OnlineGolf.co.uk stocks over 100 golf brands including TaylorMade, adidas Golf, Nike Golf, Callaway, Srixon, Mizuno, Titleist, Cobra, Puma, FootJoy, PING, Benross, Lyle & Scott, Galvin Green and Motocaddy.