Callaway helps turn baseball stadium into 9-hole golf course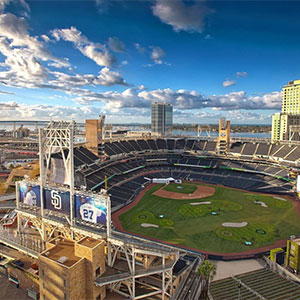 Callaway Golf has teamed up with the San Diego Padres to turn Petco Park into a 1,002-yard, nine-hole par-3 golf course which will be playable Thursday through to Sunday.
1,500 or so golfers have booked tee-off times to take on this incredible experience, and if these pictures are anything to go by it looks like they're in for a great time.
So how does this odd golf course work? Golfers get to hit tee shots onto the 2016 All-Star game field, which has been dotted with bunkers, trees and coloured target greens. And while there they can also hang out in one of baseball's best stadiums with their friends for $50; you get a hat, parking and the chance to test out some Callaway wedges. Pretty cool if you live in the USA.
Although not a big sport over here in the UK, American's will surely love this opportunity, which has golfers executing drop-wedge shots from exotic locales through the stadium to the field.
So how does it all work? Paying customers will be greeted in the VIP lounge area upon arrival behind the home plate where, once their tee-off arrives, will then be allowed to warm up in the Padres indoor batting cages. After that they walk through the team locker room, then down the tunnel towards the Padre dugout where The Links At Petco Park opens with a tee shot from home plate surrounded by a protective tent.
For hardcore baseball fans, just stepping into the batters box is a dream achieved. But getting to hit a 110-yard shot towards the centre field? That's a rush only a true fan can understand.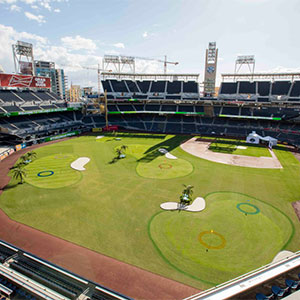 Originally the plan called for 144 golfers over four days but due to a quick sell-out and long waiting lists, more than 1,500 will be accommodated over the five day period.
How long before Anfield, Old Trafford or the Emirates Stadium gets a golf course plonked on top of it during the off-season? Watch this space…
Latest News
OG News: Jarrod Lyle confirms he's in "palliative care"

The golf world, and many out of it, have been left rocked by the news that Jarrod Lyle is going into palliative care after claiming he is "no longer able to fight."
Read more

OG News: Two events left for McDowell to secure PGA Tour card

Graeme McDowell will have just two events to secure a PGA Tour card which would enable him to play in the United States next year after failing to qualify for next week's USPGA Championship in Missouri.
Read more

OG News: Leona & Lisa Maguire sign deals with Puma Golf

PUMA Golf a leader in golf apparel, footwear and accessories are pleased to announce the signing of sisters Leona & Lisa Maguire with immediate effect.
Read more
club.news.more
Latest Videos
Video: Callaway Chrome Soft & Chrome Soft X

Chrome Soft Golf Balls combine Tour-proven performance with unparalleled feel and exceptional mis-hit forgiveness. Everything about the ball that changed the ball is better because of the innovation at every layer, starting with Callaway's groundbreaking new Graphene Dual SoftFast.
Read more

Video: Cobra Golf KING F8 Iron Tech

KING® F8 Variable and ONE Length™ irons are equipped with COBRA CONNECT™. Automatic shot tracking technology Powered By Arccos™.
Read more

Video: Octagon

The driver face is outdated. TaylorMade thinks its found the solution and sat down with five of its biggest players to see their reactions as the most twisted driver innovation is revealed. Are you ready to see?
Read more
club.news.more