Bubba Watson wants to be mayor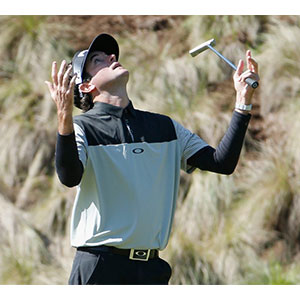 Two-time Masters champion Bubba Watson has revealed his dream job outside of golf…to become mayor.
Watson is a Florida native and has a number of businesses in his home town, including a baseball team called the Pensacola Blue Wahoos, a newly-opened sweet shop, and a car dealership.
"I moved back in the city limits of Pensacola (Florida) so one day I can run for mayor," he said.
"To be back home ... my mom works in the candy shop. The excitement around these businesses, the city of Pensacola realises I love them.
"They brought me everything I have now. They took time to sponsor sporting events that I participated in. That's the same thing I'm doing. I'm trying to help the community grow."
He added: "It's funny, I say to my friends, I say to my wife, to my manager, to my team that if you say 'Bubba Watson the golfer,' then you're limiting who I am, who I want to be and who I think I am.
"These other businesses are fun. Golf is fun. The golf is great. But there are other things I want to do. I have other dreams. Golf made it possible. Luckily for me, haven't had bank loans. I'm able to pay cash for these things."
But what would Bubba stand for?
"The first thing you do is some form of education," he said. "We talk inner city. It's where the most growth can happen, no matter what background you are. But it all starts with education."
Bubba will be playing his next game at the World Hero Challenge in a week's time, where he is the defending champion.
Latest News
OG News: Jarrod Lyle confirms he's in "palliative care"

The golf world, and many out of it, have been left rocked by the news that Jarrod Lyle is going into palliative care after claiming he is "no longer able to fight."
Read more

OG News: Two events left for McDowell to secure PGA Tour card

Graeme McDowell will have just two events to secure a PGA Tour card which would enable him to play in the United States next year after failing to qualify for next week's USPGA Championship in Missouri.
Read more

OG News: Leona & Lisa Maguire sign deals with Puma Golf

PUMA Golf a leader in golf apparel, footwear and accessories are pleased to announce the signing of sisters Leona & Lisa Maguire with immediate effect.
Read more
club.news.more
Latest Videos
Video: Callaway Chrome Soft & Chrome Soft X

Chrome Soft Golf Balls combine Tour-proven performance with unparalleled feel and exceptional mis-hit forgiveness. Everything about the ball that changed the ball is better because of the innovation at every layer, starting with Callaway's groundbreaking new Graphene Dual SoftFast.
Read more

Video: Cobra Golf KING F8 Iron Tech

KING® F8 Variable and ONE Length™ irons are equipped with COBRA CONNECT™. Automatic shot tracking technology Powered By Arccos™.
Read more

Video: Octagon

The driver face is outdated. TaylorMade thinks its found the solution and sat down with five of its biggest players to see their reactions as the most twisted driver innovation is revealed. Are you ready to see?
Read more
club.news.more