Bae Sang-moon prepares for Presidents Cup ahead of military service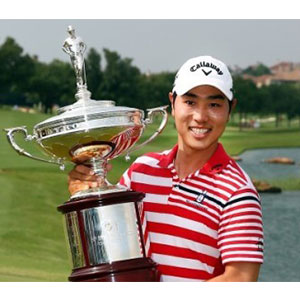 South Korean Bae Sang-moon arrived back home on Wednesday ahead of next week's Presidents Cup, telling reporters he was keen to play a big role in the event before downing clubs and hefting rifles for mandatory military service.
The 29-year-old failed in a legal battle earlier this year to defer his conscription after he was charged with violating South Korea's military service regulations.
Bae has twice won on the PGA Tour but was unable to secure an extension to his overseas travel permit after the Military Administration (MMA) deemed he had not spent enough time out of South Korea in 2014 to qualify as an overseas resident.
However, he was given permission to remain on US ground while his legal challenge to overturn the decision was pending resolution, but a court back in his native city of Daegu backed the MMA in July – and Bae immediately accepted the ruling and agreed to return and fulfil his obligations.
The fact South Korea are still technically at war with North Korea following the 1950-1953 Korean War, all South Korean men between the ages of 18 and 35 must complete two years of military service.
Bae was asked for his thoughts on Wednesday by reporters, and said he was sorry for causing controversy and was "glad to be back home."
"I will do my best before joining the military," he added.
Latest News
OG News: Jarrod Lyle confirms he's in "palliative care"

The golf world, and many out of it, have been left rocked by the news that Jarrod Lyle is going into palliative care after claiming he is "no longer able to fight."
Read more

OG News: Two events left for McDowell to secure PGA Tour card

Graeme McDowell will have just two events to secure a PGA Tour card which would enable him to play in the United States next year after failing to qualify for next week's USPGA Championship in Missouri.
Read more

OG News: Leona & Lisa Maguire sign deals with Puma Golf

PUMA Golf a leader in golf apparel, footwear and accessories are pleased to announce the signing of sisters Leona & Lisa Maguire with immediate effect.
Read more
club.news.more
Latest Videos
Video: Callaway Chrome Soft & Chrome Soft X

Chrome Soft Golf Balls combine Tour-proven performance with unparalleled feel and exceptional mis-hit forgiveness. Everything about the ball that changed the ball is better because of the innovation at every layer, starting with Callaway's groundbreaking new Graphene Dual SoftFast.
Read more

Video: Cobra Golf KING F8 Iron Tech

KING® F8 Variable and ONE Length™ irons are equipped with COBRA CONNECT™. Automatic shot tracking technology Powered By Arccos™.
Read more

Video: Octagon

The driver face is outdated. TaylorMade thinks its found the solution and sat down with five of its biggest players to see their reactions as the most twisted driver innovation is revealed. Are you ready to see?
Read more
club.news.more