Allenby fires caddie mid-round and hires fan at Canadian Open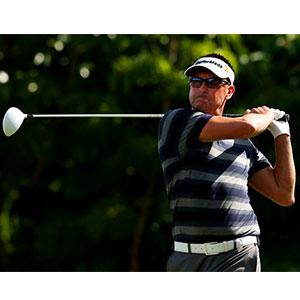 Robert Allenby spectacularly fired his caddie Mick Middlemo midway through a round at the Canadian Open after the pair's very public expletive-laden bust-up.
The Australian lugged his own bag around the greens for a single hole before allowing a 61-year-old school principle to take over the duties.
Fans watching the game on the 13th hole were treated to an almighty row when Allenby's caddy suggested he use an eight iron rather than a seven iron – a move which left the player short of the green and in a creek.
44-year-old Allenby carded an 81 and withdrew himself from the tournament, saying: "My nerves have been rattled. I'm in shock. This is the worst incident I've ever witnessed as a player."
Of course both men have conflicting accounts of what happened at Glen Abbey Golf Club in Ontario, but both agree it was a heated confrontation.
"He just lost the plot at me," Allenby said. "He got right in my face as if he wanted to just beat me up. I said, 'Stop being a such-and-such and calm down and get back into the game'.
"And he just got even closer and closer and I just said, 'That's it, you're sacked. I will never have you caddie again.'"
However, Middlemo's version of events are somewhat different to that of his former employer.
"Robert's a pretty highly strung individual and he hasn't been playing great of late," he told an Australian radio station.
"We had a discussion about a club, then of course I copped the wrath of that.
"Then unfortunately the personal insults started. I've been called a bad caddie ... but when the personal insults come in and you're being called a fat so-and-so ... I got a little bit peeved by it and then the third time he said it I walked up to him and basically said 'I dare you to say that to me again'.
"He didn't say it again. There was never going to be any violence. I was just going to put the bag down, get my gear and leave."
Middlemo added that, after walking off the course, he received a standing ovation from fellow bagmen in the caddies' hut.
This is now the third time Allenby has found himself caddie-less on the golf course. The first time it happened was in the 2007 BMW Open when Matthew Tritton dumped the bag near the seventh tee, removed his bib and stormed off. The second incident occurred at the 1995 Open at St Andrews when his caddie up and quit.
Allenby was in the news earlier this year when he claimed to have been kidnapped, mugged and beaten while playing in Hawaii, and admitted the incident still affects him.
Allenby is a four-time PGA Tour winner.
Latest News
OG News: Jarrod Lyle confirms he's in "palliative care"

The golf world, and many out of it, have been left rocked by the news that Jarrod Lyle is going into palliative care after claiming he is "no longer able to fight."
Read more

OG News: Two events left for McDowell to secure PGA Tour card

Graeme McDowell will have just two events to secure a PGA Tour card which would enable him to play in the United States next year after failing to qualify for next week's USPGA Championship in Missouri.
Read more

OG News: Leona & Lisa Maguire sign deals with Puma Golf

PUMA Golf a leader in golf apparel, footwear and accessories are pleased to announce the signing of sisters Leona & Lisa Maguire with immediate effect.
Read more
club.news.more
Latest Videos
Video: Callaway Chrome Soft & Chrome Soft X

Chrome Soft Golf Balls combine Tour-proven performance with unparalleled feel and exceptional mis-hit forgiveness. Everything about the ball that changed the ball is better because of the innovation at every layer, starting with Callaway's groundbreaking new Graphene Dual SoftFast.
Read more

Video: Cobra Golf KING F8 Iron Tech

KING® F8 Variable and ONE Length™ irons are equipped with COBRA CONNECT™. Automatic shot tracking technology Powered By Arccos™.
Read more

Video: Octagon

The driver face is outdated. TaylorMade thinks its found the solution and sat down with five of its biggest players to see their reactions as the most twisted driver innovation is revealed. Are you ready to see?
Read more
club.news.more