Adam Scott wary of 'crazy hard' Oakmont course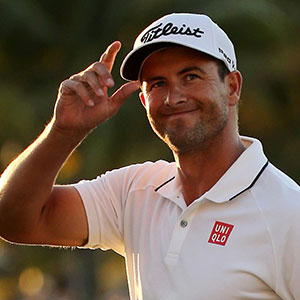 Adam Scott has reiterated his hopes that this week's course set up at Oakmont for the US Open will not be unfair on the players like in previous years.
The US Open has a less than stellar reputation for being notoriously difficult to navigate, leaving little room for error and sternly punishing golfers who make even the slightest of mistakes during their round.
Ankle-deep rough, lightning fast greens and 210 bunkers await the players in Pennsylvania, and Adam Scott is hoping for a more forgiving weekend than he has experienced in the past.
Speaking to AAP, Scott said: "The US Open reputation for over 100 years has been the hardest test in golf but to make it significantly harder than some other great events they have to make it crazy hard.
"Whether it is Oakmont or any other golf course, the players now and the distance and consistency they hit it...if par or worse wins and that's the best of the best that week then something silly is probably happening out there.
"When we have a two-yard gap to hit a 250-yard tee shot to keep it in a fairway or where the ball will only roll down into this one bit of rough. That's when it can be unfair and then we have gone too far."
Scott missed the cut the last time the US Open was played at Oakmont after carding a 76 and an 82 to finish 18 over par. Winner Angel Cabrera, however, would only manage five over par, giving an indication of the degree of difficulty at Oakmont.
"I've tried to forget," Scott said.
"I had six birdie putts in two days and I didn't make any of them and if five over is the best of the best that's a little frightening.
"We just have to be careful not to manipulate stuff too much and just set up the course fair."
"If it rains and gets soft the guys are going to shoot a low score," added the Australian.
"If it doesn't and it firms up through the week we are going to be challenged. If 15 under won the US Open at Oakmont and it was wet all week then I think it would still be liked.
"We are going to do it again if ten over wins too but it is far more enjoyable erring on the side of fair."
Latest News
OG News: Jarrod Lyle confirms he's in "palliative care"

The golf world, and many out of it, have been left rocked by the news that Jarrod Lyle is going into palliative care after claiming he is "no longer able to fight."
Read more

OG News: Two events left for McDowell to secure PGA Tour card

Graeme McDowell will have just two events to secure a PGA Tour card which would enable him to play in the United States next year after failing to qualify for next week's USPGA Championship in Missouri.
Read more

OG News: Leona & Lisa Maguire sign deals with Puma Golf

PUMA Golf a leader in golf apparel, footwear and accessories are pleased to announce the signing of sisters Leona & Lisa Maguire with immediate effect.
Read more
club.news.more
Latest Videos
Video: Callaway Chrome Soft & Chrome Soft X

Chrome Soft Golf Balls combine Tour-proven performance with unparalleled feel and exceptional mis-hit forgiveness. Everything about the ball that changed the ball is better because of the innovation at every layer, starting with Callaway's groundbreaking new Graphene Dual SoftFast.
Read more

Video: Cobra Golf KING F8 Iron Tech

KING® F8 Variable and ONE Length™ irons are equipped with COBRA CONNECT™. Automatic shot tracking technology Powered By Arccos™.
Read more

Video: Octagon

The driver face is outdated. TaylorMade thinks its found the solution and sat down with five of its biggest players to see their reactions as the most twisted driver innovation is revealed. Are you ready to see?
Read more
club.news.more