Adam Scott: Rest more important than Olympics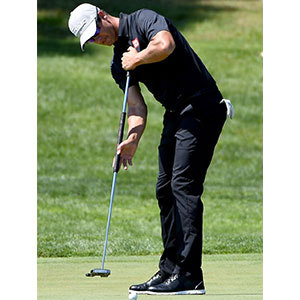 Adam Scott has suggested he would rather rest than take part in the Olympic Games next year, as he tries to work an already busy schedule.
The former World No.1 is Australia's best hope of clinching a medal when golf is reinstated to the Olympics at Rio next year, so this news will come as a blow to his native homeland.
Scott is Australia's second highest-ranked player behind Jason Day, and would automatically qualify for the tournament if he can just maintain his current ranking in the top 15 by June 2016. Although Day is better placed than Scott, there's strong belief that he would be better placed to bring home the gold for his country ahead of his compatriot.
Speaking to reporters in Melbourne on Wednesday, Scott said: "It's not really a priority of my scheduling next year and I'll still base my schedule around the majors.
"Looking at the schedule some time off looks quite good actually.
"That's nothing to take away from the Olympics but I'm just not sure that they have got it quite dialled in for the format and might have missed an opportunity there to do something pretty special for golf."
Golf is set to be played at the Olympic Games for the first time since the 1904 Games in St. Louis and will consist of men's and women's 72-hole individual strokeplay tournaments.
The world's top 15 in both the men and women's events qualify automatically in maximum fields of 60 players, although places are limited to four golfers per nation in each tournament – which is likely to rule out a number of top Americans.
"I would have liked to have seen it be a little more creative than a 72-hole strokeplay event," Scott added.
"I'm not really sure how just having another golf tournament is really going to enhance the game or grow the game any more than any other tournament just because it's the Olympics.
"And certainly with the field criteria, it doesn't necessarily get the strongest field in the game.
"Some kind of a team event, even a mixed team event with the guys and girls would have been really interesting and something different."
Scott is currently playing in the Australian Masters, which begins on Thursday.
Latest News
OG News: Jarrod Lyle confirms he's in "palliative care"

The golf world, and many out of it, have been left rocked by the news that Jarrod Lyle is going into palliative care after claiming he is "no longer able to fight."
Read more

OG News: Two events left for McDowell to secure PGA Tour card

Graeme McDowell will have just two events to secure a PGA Tour card which would enable him to play in the United States next year after failing to qualify for next week's USPGA Championship in Missouri.
Read more

OG News: Leona & Lisa Maguire sign deals with Puma Golf

PUMA Golf a leader in golf apparel, footwear and accessories are pleased to announce the signing of sisters Leona & Lisa Maguire with immediate effect.
Read more
club.news.more
Latest Videos
Video: Callaway Chrome Soft & Chrome Soft X

Chrome Soft Golf Balls combine Tour-proven performance with unparalleled feel and exceptional mis-hit forgiveness. Everything about the ball that changed the ball is better because of the innovation at every layer, starting with Callaway's groundbreaking new Graphene Dual SoftFast.
Read more

Video: Cobra Golf KING F8 Iron Tech

KING® F8 Variable and ONE Length™ irons are equipped with COBRA CONNECT™. Automatic shot tracking technology Powered By Arccos™.
Read more

Video: Octagon

The driver face is outdated. TaylorMade thinks its found the solution and sat down with five of its biggest players to see their reactions as the most twisted driver innovation is revealed. Are you ready to see?
Read more
club.news.more