Adam Scott makes the switch back to short putter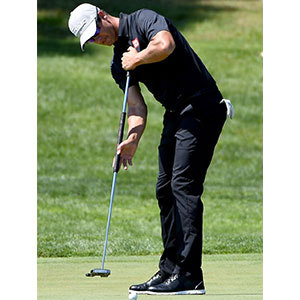 After weeks of defiance, Adam Scott has finally accepted the impending long putter ban and switched back to a short putter three months before the official cut off date.
Scott used a conventional putter during a practice round on Monday at the Presidents Cup, and the Australian stated he was sticking to it for good this time.
He spent the last five weeks working with the new putter and a cross-handed grip that feels as comfortable as the long putter he had used for the past four years.
"I think it was a good time to make a change and spend some time working on it," Scott said. "It's a similar amount of time, actually, when I switched to the long putter, that gap of five weeks between events. It took shape quickly, and I feel the same will happen with this. It's kind of refreshing to have to make a forced change because my putting stats are not that impressive this year."
Although Scott has never been known for his putting prowess, this has season has not been good at all – his worst since 2010.
When golf's ruling body agreed to ban long putters as of January 1, Scott was obviously upset and called for the decision to be rescinded. He switched to the long putter in 2011 and won the Masters two years later.
At the beginning of this year Scott showed up with a conventional putter in his bag for the game at Doral and tied for fourth. However he then missed the cut the following week at the Valspar Championship, finishing 13 shots outside of the lead at Bay Hill. It was enough to force him back to a long putter.
"I didn't take any time going into that," he said. "I just did it with no thought and open mind to see how it went. It went well, really, but maybe I got a little jumpy as I neared the Masters without a little practice and went back. But this is a more permanent move. I think I've got to stick with it now and get good at it."
It will be interesting to see how well Scott, and of course other golfers, fare while using more conventional putters in their games' going forward.
Latest News
OG News: Jarrod Lyle confirms he's in "palliative care"

The golf world, and many out of it, have been left rocked by the news that Jarrod Lyle is going into palliative care after claiming he is "no longer able to fight."
Read more

OG News: Two events left for McDowell to secure PGA Tour card

Graeme McDowell will have just two events to secure a PGA Tour card which would enable him to play in the United States next year after failing to qualify for next week's USPGA Championship in Missouri.
Read more

OG News: Leona & Lisa Maguire sign deals with Puma Golf

PUMA Golf a leader in golf apparel, footwear and accessories are pleased to announce the signing of sisters Leona & Lisa Maguire with immediate effect.
Read more
club.news.more
Latest Videos
Video: Callaway Chrome Soft & Chrome Soft X

Chrome Soft Golf Balls combine Tour-proven performance with unparalleled feel and exceptional mis-hit forgiveness. Everything about the ball that changed the ball is better because of the innovation at every layer, starting with Callaway's groundbreaking new Graphene Dual SoftFast.
Read more

Video: Cobra Golf KING F8 Iron Tech

KING® F8 Variable and ONE Length™ irons are equipped with COBRA CONNECT™. Automatic shot tracking technology Powered By Arccos™.
Read more

Video: Octagon

The driver face is outdated. TaylorMade thinks its found the solution and sat down with five of its biggest players to see their reactions as the most twisted driver innovation is revealed. Are you ready to see?
Read more
club.news.more