A century of sport: Wilson celebrate 100 years in golf
Wilson is one of the most recognised and respected brands in the world, sharing more winning moments than any other company in sports and casting its net wide to help players achieve their potential by creating the very best branded products for golfers, tennis players and footballers, to name just a few.
Wilson's impressive record sees it boast more golf and tennis majors than any other brand, while also topping the chart with the most Super Bowl victories and World Series titles. And it's this commitment to success which has seen the brand evolve from a small business in 1914 to a thriving, freight-train behemoth of sport in 2014.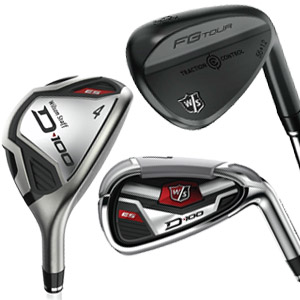 To help usher in the next century of excellent golf products from Wilson, we've drawn up a list of their best and most innovative products available now which will garner better results on the greens.
Golf Clubs
Sink your competitive teeth into these new Wilson Staff golf clubs, all of which have been expertly designed for greater performances on the golf course. Gap your distances while taking advantage of Wilson's Exoskeleton Technology and Right Light Technology by taking a few winning swings with the Wilson Staff D100 ES 4-5 Hybrid & Irons Steel 6-SW, or grapple the greens with the ultra-reliable and no-nonsense Wilson Staff FG Tour Black TC Wedge, which gains further popularity thanks to having maximum spin on both full and partial shots and two unique sole options to play with.
Golf Balls & Accessories
Pull on a Wilson Feel Plus Glove for ultimate grip and comfort and never experience that slipping feeling on shots again. And for female golfers, Wilson's Ladies Feel Plus Glove offers intense moisture-wicking and cooling properties so every game will feel comfortable.
And with new two-piece construction, greater distance and insane velocity, there's something to be said for also choosing Wilson's FLI 12 Golf Balls.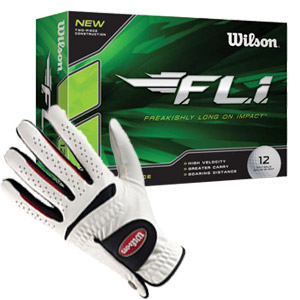 Golf Bags
Acres of storage options and sweet designs show why so many golfers choose to place their golf clubs in a Wilson bag. New designs include the Wilson Staff Prestige Cart Bag, Wilson Staff Performance Cart Bag, Wilson Staff QS Stand Bag, Wilson Staff Nexus Stand Bag and the expertly-crafted Wilson Staff Ionix Ladies Cart Bag.
Celebrate another 100 years of quality Wilson Golf equipment with OnlineGolf.co.uk.