GoKart Automatic and Manual golf trolleys roll into OnlineGolf
GoKart has hit the ground running (or should that be rolling?) at OnlineGolf with its brilliant Manual Speed 36-hole lithium electric trolley, a model unlike anything else on the market today.
The trolley has a fresh modern look and innovative new drive system that makes handling this little beauty so easy you barely need to try. The frame folds in the fewest possible movements, thus eliminating those fiddly catches, clips or connectors, leaving you ready to roll onto the greens in record time. GoKart has also added a unique loading system which means inserting the lithium battery automatically powers up the trolley as well as locking open the frame.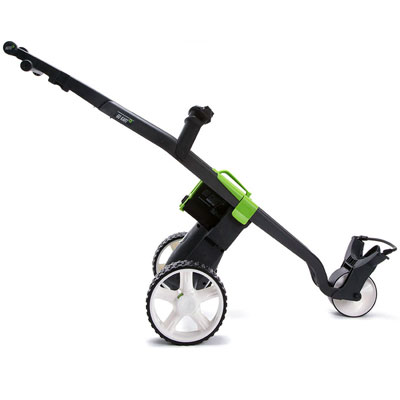 Feel the power of GoKart Technology
The GoKart Manual Speed 36 Hole Lithium Electric Trolley features standard speed control system that's incredibly easy to operate and control on the golf course. It has a simple roller on the handle to perfectly adjust the speed at which you want to travel combined with an on/off switch which makes it easier to keep the golf trolley matched to your particular walking pace.
Tough, durable design
The toughness of a golf trolley is paramount when traversing the golf course. What good is a wealth of technology when the trolley can barely survive a single round…so GoKart has made their trolley ultra-tough!
Made from a thermoplastic polymer frame, GoKart golf trolleys are able to make steep hills and bobbly greens look like a smooth carpet. The frame itself is not prone to easy damage, meaning the odd knock here and there will not affect its performance or look. GoKart has worked hard to make sure this is one of the safest, securest golf trolleys on the market, and it is.
Everything about the GoKart Manual Speed 36 Hole Lithium Electric Trolley screams quality, and luckily the same can be said about how well constructed it is. The GoKart has a console at the handle which can hold a scorecard, pencil, two golf balls and even a couple of golf tees for quick access on the golf course. Incredibly quick and so easy to fold into a small package for car or home storage, you'll never struggle again getting the GoKart trolley into small spaces.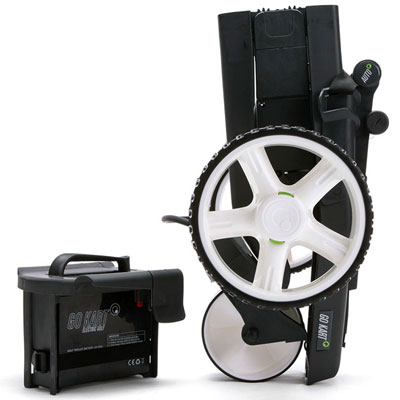 The GoKart Manual Speed 36 Hole Lithium Electric Trolley comes equipped with Rechargeable 36 hole lithium battery and charger so you're ready to go the moment it arrives on your doorstep!
And here's the whole of the GoKart family, available now at OnlineGolf.co.uk
GoKart Automatic 18 Hole Electric Trolley
GoKart Automatic 36 Hole Electric Trolley
GoKart Automatic 36 Hole Lithium Electric Trolley
GoKart Manual Speed 36 Hole Lithium Electric Trolley
GoKart Manual Speed 18 Hole Lithium Electric Trolley
GoKart Manual Speed 36 Hole Electric Trolley