5 golfers you might have forgotten were once No.1 in the world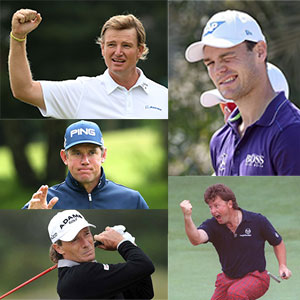 Recently it was claimed that Rory McIlroy, Jordan Spieth and Jason Day were the new 'Big Three' of golf, easing out the likes of Tiger Woods, Phil Mickelson and others who have dominated the golfing world for many seasons.
But what about those other golfers who also gained notoriety for climbing to the top of the mountain? The ones who no one seems to remember ever having achieved World No.1 status? We though we'd compile a short list of players that we think people simply forget ever graced the peak of their professions. Let us know how many of these you remember by sharing this article and commenting.
So in no particular order, here's a bunch of golfers you probably forgot were ever World No.1's.
5. Bernhard Langer
Perhaps a man who should be remembered due to being the first player to hold top spot when the Official World Golf Rankings debuted on April 6, 1986, Langer won the 1985 Masters and was crowned World No.1 for three weeks before being usurped by Seve Ballesteros. The German should be far more recognised than he is.
4. Lee Westwood
A popular golfer but not a man many mention as being World No.1, Lee Westwood would finally realise his dream at the top of the mountain on Halloween in 2010 after knocking Tiger Woods from his perch. Westwood actually had two stints at No.1 totalling a pretty decent 22 weeks.
3. Martin Kaymer
Rarely mentioned is Martin Kaymer's run at the top of the rankings charts in 2011. Despite losing the WGC Match Play to Luke Donald, the German still become No.1 and held the position for eight weeks before hitting a long slump that he finally came out of in 2014 when he won the Players and US Open.
2. Ian Woosnam
Ian Woosnam earned his No.1 spot and then followed it up by winning the Masters. It was the only major title of his career but one that is still fondly remembered. However, his run as best in the world is largely forgotten, despite holding the position for just under a year when Fred Couples overtook him in March of 1992.
1. Ernie Els
One of the best players to ever grace the golf course, Ernie Els is (currently) a four-time major champion. So of course he's been World No.1. Except a lot of people don't know it. This could be because, despite his excellent form over the years, Els has only spent nine week at No.1 in his whole career – reaching the summit on three separate occasions.
How many of these were a surprise to you? Was there anyone we missed who should have made the list? Share and comment below.
Latest News
OG News: Jarrod Lyle confirms he's in "palliative care"

The golf world, and many out of it, have been left rocked by the news that Jarrod Lyle is going into palliative care after claiming he is "no longer able to fight."
Read more

OG News: Two events left for McDowell to secure PGA Tour card

Graeme McDowell will have just two events to secure a PGA Tour card which would enable him to play in the United States next year after failing to qualify for next week's USPGA Championship in Missouri.
Read more

OG News: Leona & Lisa Maguire sign deals with Puma Golf

PUMA Golf a leader in golf apparel, footwear and accessories are pleased to announce the signing of sisters Leona & Lisa Maguire with immediate effect.
Read more
club.news.more
Latest Videos
Video: Callaway Chrome Soft & Chrome Soft X

Chrome Soft Golf Balls combine Tour-proven performance with unparalleled feel and exceptional mis-hit forgiveness. Everything about the ball that changed the ball is better because of the innovation at every layer, starting with Callaway's groundbreaking new Graphene Dual SoftFast.
Read more

Video: Cobra Golf KING F8 Iron Tech

KING® F8 Variable and ONE Length™ irons are equipped with COBRA CONNECT™. Automatic shot tracking technology Powered By Arccos™.
Read more

Video: Octagon

The driver face is outdated. TaylorMade thinks its found the solution and sat down with five of its biggest players to see their reactions as the most twisted driver innovation is revealed. Are you ready to see?
Read more
club.news.more