15-year-old golfer qualifies for US Open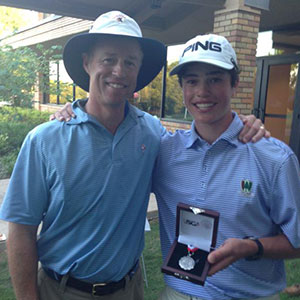 A 15-year-old in America is set to compete for the US Open title later this month.
Cole Hammer, who lives in Houston, Texas, will become the third-youngest golfer to play in the event, which is due to run from 18th to 21st June at Chambers Bay.
Rory McIlroy and Jordan Spieth, who have both tasted great success from an early age, may need to start looking over their shoulder.
"I never dreamed I could do it," said Hammer, following his qualification in Texas.
"This means the world to me. When I saw Jordan Spieth win the Masters, I said: 'I can do this.'"
China's Andy Zhang remains the youngest-ever player to participate in a US Open at the tender age of just 14 back in 2002 – when he missed the cut at Olympic Club.
Could Hammer, at 15 years and 10 months, do better? He is five months older than Hawaii's Tadd Fujikawa was when missed the cut at Winged Foot in 2006.
However, Hammer does dethrone fellow American Tyrell Garth Jr, who was three days short of his 16th birthday when he played in 1941 to much fanfare.
So how does this latest young golfer find himself playing shoulder to shoulder with the world's best on the big stage? Having come through qualifying at Deerwood, Hammer finished second at Northwood to secure a place in the 156-strong field assembled for the US Open, won by Martin Kaymer in 2014.
"I've never been to a US Open before, I was just hoping to make the US Junior later this summer," said Hammer.
"We didn't have any plans for that weekend, but I guess we do now."
Hammer will also be caddied by his father, who has been a great supporter of his son and his dreams of achieving a place at the US Open.
Latest News
OG News: Jarrod Lyle confirms he's in "palliative care"

The golf world, and many out of it, have been left rocked by the news that Jarrod Lyle is going into palliative care after claiming he is "no longer able to fight."
Read more

OG News: Two events left for McDowell to secure PGA Tour card

Graeme McDowell will have just two events to secure a PGA Tour card which would enable him to play in the United States next year after failing to qualify for next week's USPGA Championship in Missouri.
Read more

OG News: Leona & Lisa Maguire sign deals with Puma Golf

PUMA Golf a leader in golf apparel, footwear and accessories are pleased to announce the signing of sisters Leona & Lisa Maguire with immediate effect.
Read more
club.news.more
Latest Videos
Video: Callaway Chrome Soft & Chrome Soft X

Chrome Soft Golf Balls combine Tour-proven performance with unparalleled feel and exceptional mis-hit forgiveness. Everything about the ball that changed the ball is better because of the innovation at every layer, starting with Callaway's groundbreaking new Graphene Dual SoftFast.
Read more

Video: Cobra Golf KING F8 Iron Tech

KING® F8 Variable and ONE Length™ irons are equipped with COBRA CONNECT™. Automatic shot tracking technology Powered By Arccos™.
Read more

Video: Octagon

The driver face is outdated. TaylorMade thinks its found the solution and sat down with five of its biggest players to see their reactions as the most twisted driver innovation is revealed. Are you ready to see?
Read more
club.news.more