https://www.onlinegolf.co.uk/clubs/drivers/ping-g410-sft-driver-343501.html
Earn 836 loyalty points
worth £8.36

Ping do not allow their golf products to be sold via the Internet in Europe through the automated checkout service, however we would be happy to help you over the telephone.
Please contact us on 
+44 (0)161 509 2020
 and our professional team will be happy to discuss your requirements, help you select the right Ping product and place your order.

Our office opening times are:
08:00 - 19:00 Monday to Friday
09:00 - 18:00 Saturday & Bank Holidays
Sundays: CLOSED
More about this product
Product details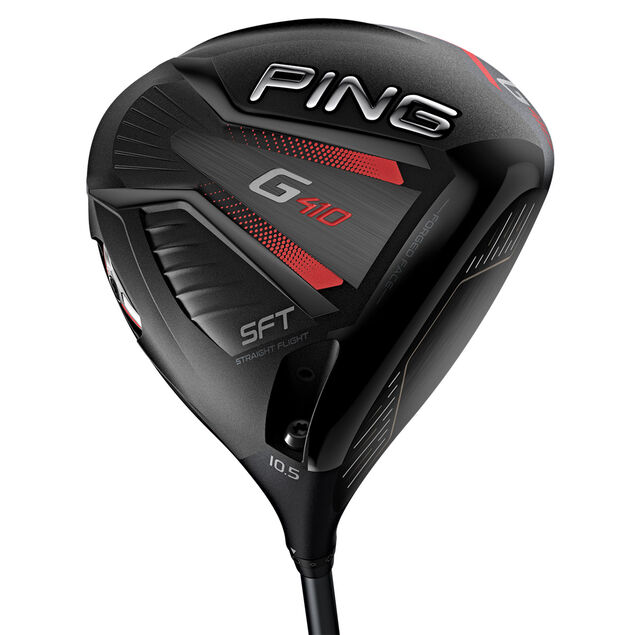 The G410 SFT driver from PING has been engineered with even better aerodynamics, and more efficient crown turbulators. With a forged face and movable weighting for a variety of different shot shapes, for customisable distance performance. SFT (Straight Flight Technology) features a stationary 16-gram weight placed more towards the heel, this helps golfers with an undesirable fade to straighten up and get your ball rolling down the correct side of the fairway.
The PING Driver Benefits:
Internal Dragonfly Technology
Aerodynamic Crown & Forged Face
8-Lobe Trajectory Tuning
12 Months Warranty & Premium Stock Shaft
Internal Dragonfly Technology
PING has created the G410 driver with a Ti 811 ultra-thin crown, with Internal Dragonfly Technology to produce even more weight savings. This increases the MOI, for the highest levels of forgiveness and even more distance.
Forged Face
The high-strength T9S+ face of the driver has been forged using a unique heat treating process. This patented process creates a thinner face which is precision machined for maximum flexing, this increases ball speed for greater distance performance all the way along the face.
8-Lobe Trajectory Tuning
This driver features an 8-Lobe Trajectory Tuning hosel to fine-tune trajectory according to different conditions or golf swing.
The PING driver comes complete with a matching head cover.