Women and Business Golf
Golf is a sport which in some ways is unlike any other – anyone, regardless of age, gender or ability can play and compete against any opponent and still face an even competition. Golf's handicap system - where players are given different amounts of extra shots to help them reach par - ensures that a fair game can be played between opponents regardless of other factors. This level playing field should translate into an even spread of players, however this is not the case. Worldwide male golfers far outweigh female golfers, and this is becoming increasingly prevalent in the UK. With only 14% of the UK's golfers being female, what can be done to increase the number of women golfers today?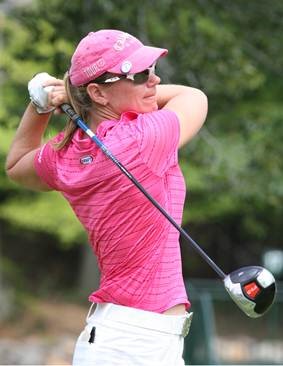 What's stopping women from playing golf?
Golf is accessible, affordable and open for anyone, so why does it have such a disparity between male and female players? "Fear and intimidation are major factors in stopping women from participating" says Donna Hoffman of Women on Course. This is because golf is very often seen as a man's sport, as is evident by the difference in numbers of men and women playing, and this can lead to women not taking up the game.

Another common worry in potential golfers is that as they'll be just starting out, their ability won't be up to scratch and they won't be taken seriously. This is, however, nothing to be worried about. "Most women I encounter think they are not good enough to play. I often tell women that people expect them to be bad. When they hit a nice shot or two and they will be impressive" Donna said. David Pocock, coach at Valleys Golf Enterprise says "Beginner ladies like to see golf as more of a social night; they tend to feel more confident in a group as they find it quite daunting to play individually compared to men." This lack of confidence on the course can prevent women from making more of an impact, and can stop some playing altogether.
The perception of the number of female golfers could also be an issue in golf. In a survey we carried out at the start of May 63% of respondents answered that they play golf more than once a week, though only just over a quarter of these knew that 14% of golfers are women. 46% of all respondents thought that women made up 21% of the total UK golfers – overestimating the figure by 50%.

How do we get more women to take up golf?

The lack of women golfers is not just something felt by clubs, but by the sport as a whole, and the subject of how to increase female participation has been a hot topic in golf for years. From the survey, we found that the main barriers to entry women golfers cited were poor tee off times and snobbery – both things outside of women's control, and both major turn-offs. "Women don't feel welcome" says Jenn of High Heel Golfer. The "men's club" stigma surrounding golf is undeniably a factor in low female participation, and something that, if addressed, could help make more women take up the sport.

The men's club barrier is something Annie of Lady Golfer Club agrees with "[Women] do still see it as a "Male Only" sport and I think it would help if there were more women in offices in the game; including female Directors of Golf and Coaches" although the amount of time a game takes is another issue "there must be more emphasis on the game taking less time to play with 9 holes being more readily available, as well as shortened courses."

Although it's almost a given, many people overlook the health aspects of golf. Whilst playing 18 holes, players can walk anywhere between 5 and 6 miles and will, on average, burn up to 2,000 calories through walking, swinging clubs and carrying bags. The low-impact nature of golf makes it perfect for the older generation as well, who make up a large proportion of its demographic. Were the health benefits of the game more widely-publicised (or marketed more towards women) would this encourage more women to play?

Aside from the obvious social, health and practical benefits that come from playing golf, there is one major reason a lot of people in business play the sport – to get ahead of their co-workers.

What is business golf and why aren't enough women playing it?

Business, or corporate, golf is when golfers play for work-related purposes. This could be with potential clients, current clients, colleagues or bosses, and it is seen as one of the best and quickest ways of career progression.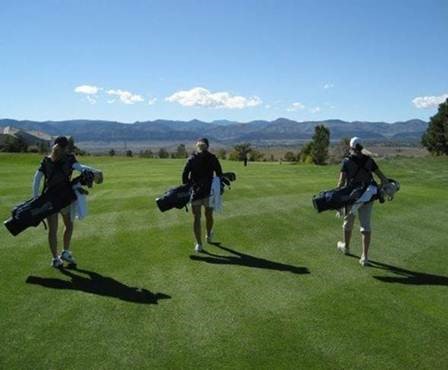 "For women in entry and mid-level positions golf may be one of the best shortcuts to the executive level both within her own company or others" says Donna, before continuing "it may take 10 lunches to deepen a relationship that would occur with one round of golf." This is a sentiment which is echoed by Jenn "Golf can help a person in business to build stronger relationships with clients and co-workers. Business is all about who you know, like, and trust - the golf course is the best place to make that happen."

Golf is often referred to as "the sport of business", and with good reason. What better way is there of finding out what a person is like than playing 18 holes of golf with them? Golf is a game which requires not only good technical ability, but a huge amount of etiquette from all participants. Slyly kicking your ball out of a bad spot, talking whilst someone is taking their shot, or acting in an unsporting manner might win you the match, but could lose you the deal.

Corporate golf days are being increasingly used by businesses to encourage a healthy competitiveness and give employees a chance to make connections outside of the office. This is potentially very helpful, though the opportunity is frequently being underutilised by women – perhaps through no fault of their own. 47% of people we surveyed thought that there aren't equal opportunities for women to play business golf, whilst 53% of people think there isn't enough done to encourage women to play golf in general.

So how can you start?

The first thing to do if you're considering taking up golf is to find your local course. If you're unsure of where it is, try England Golf's course finder. Once you've found a course and got your clubs (if you're unsure what to try, have a look at our ladies golf shop), the next thing to consider is taking some lessons. "A woman should start with golf lessons" says Donna.

Lessons will help you to understand the techniques, terminology, and the etiquette involved in the game. Behaviours which will come easily to experienced golfers (things as little as not standing with your shadow on someone's putting line) will be harder to pick up without teaching, and making sure that your professional side is evident in both the office and the game will help to instil confidence in your playing partner. High Heel Golfer has a great guide on the basics here.
The Business Golf Network has one final tip "Don't focus on completing deals on the course straight away; build friendships, trust and find common ground with the person you are meeting. You may be happy to help a stranger every once in a while, but you will always be happy to help a friend."
Playing golf can not only help your social life, but your professional life as well. By playing golf you're taking an active interest in trying to get noticed, and giving yourself a chance to be remembered both in and out of the office. As much of a men's club it may seem, letting colleagues know that you play can be a great way of making new connections and breaking through the "grass ceiling".
Have your say: what can be done to increase the number of female golfers today?