The OnlineGolf 2018 Buyers Guide to Golf Bags
Golf bags allow players to safely traverse the greens without putting unnecessary pressure on their body when carrying a set of golf clubs. Golf bags can be stylish, comfortable and, above all, efficient.
There are a range of different golf bags available now at OnlineGolf, and this buying guide will offer useful advice for all players looking for quality, a trustworthy brand, and a wealth of other features, too.
Trolley/Cart Bags
The classic trolley and cart bags are ideal for pretty much any golfer. What makes them so good is their design; offering a plethora of storage options for golf balls, clubs and sometimes even clothing and accessories. Other great features include being able to easily and effortlessly place most types of trolley/cart bag onto a golf trolley, making travel a cinch.
There's a whole host of very good trolley/cart bags available on the market in 2017, but at OnlineGolf we only stock the best quality ranges, such as the Callaway Golf Chev Org 15 Cart Bag 2017, TaylorMade Corza Cart Bag, PING Traverse Cart Bag 2017, Sun Mountain 2017 H2NO Superlite Cart Bag, Nike Golf Retro III Cart Bag, TaylorMade Monaco Cart Bag and Callaway Golf Hyper Dry Cart Bag 2017, among others.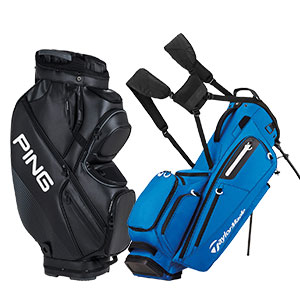 Carry/Stand Bags
Carry (or stand bags) are often used by golfers who do not want to push trolleys around the greens, preferring instead to loft their bag over a shoulder. Carry bags are extremely popular and look great, sometimes weighing as little as 3.5lbs. There's also lots of storage in these bags, so don't let the slight size and weight fool you – these bags are comfortable, durable and packed with nifty little features.
Looking for carry bags in 2017, we stock a great range, including the TaylorMade Flextech Stand Bag, Callaway Golf X Series Stand Bag 2017, Callaway Golf Hyper-Lite 2 Double Stand Bag, Sun Mountain 3.5 LS Stand Bag, TaylorMade Waterproof Stand Bag, BIG MAX Heaven 6 Stand Bag and Callaway Golf HyperLite 3 Double Stand Bag.
Pencil Bags
A thinner, lighter version of the carry bag, pencil bags have 6-inch diameter tops and can hold 14 golf clubs effortlessly. Due to their small size, pencil bags are easy to store when not in use. However, pencil bags are not the most protective in rain and, unlike the carry and cart bags, have zero waterproof capabilities. Some do offer hoods, though, which does kind of make up for it when playing in adverse weather conditions.
We have new pencil bags in stock right now, including the Callaway Golf HyperLite 1 Pencil Bag, TaylorMade Quiver Stand Bag and PING Moonlite Pencil Bag.
Tour Bags
Tour bags are the biggest golf bag available, predominantly measuring around 10 inches in diameter, and weighing up to 45lbs. They are used mainly by professional players, and can accommodate a glut of golf clubs. If you like carrying your own bags and golf clubs, then this is not the bag for you. They are marked at the higher end of the purchasing spectrum, but the tour bags quality is so evident that many golfers can easily overlook this and will get one anyway.
The Stewart Golf T5 Tour Bag and Mizuno Golf JPX Tour Bag are available now at OnlineGolf.