The OnlineGolf 2018 Buyers Guide to Manual & Electric Trolleys
Our useful buying guide for manual and electric golf trolleys will answer all your questions, such as how to choose the best model, which brands should be considered, how much storage option to check for, and more hints and tips. So, have a read before purchasing a golf trolley, and know the facts before making a final decision.
Two types of Golf Trolley
Once you have made the decision to purchase a golf trolley, the very first thing you should look at is whether the trolley needs to be manual or electric. For example, do you want a golf trolley that can be pulled along at your own pace, or an electric trolley which can be remotely controlled and moves at your side at varying speeds?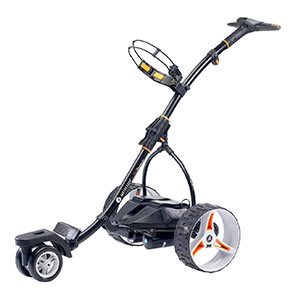 Manual Golf Trolleys
Manual golf trolleys are designed to be ergonomically sound, meaning they epitomise comfort, stability and ease of movement on the golf course. A decent manual trolleys usually consists of a straight bar that is roughly running at around 45 degrees – and on which the golf bag can be supported at the base and top – and two rear wheels added for stability and movement. The pull-along handles have excellent support for the golfer, while a third wheel can also be used at the base of some trolleys to stop from titling and falling over.
Some of the best manual golf trolleys available include the PowaKaddy TwinLine 4 Trolley, Clicgear Rovic RV1S Trolley, BIG MAX IQ Plus Trolley, Motocaddy M1 Lite Trolley and Stewart Golf R1-S Push Trolley.
Additional features & benefits
Many golf trolleys collapsible and able to be tucked away for easy transportation along with the golf clubs, so checking this is the case before buying could free up a lot of extra space in your car, home, garden or garage.
Golf trolleys also have some great accessories to make them more functional and user-friendly. Accessories include umbrella holders, scorecard holders and drinks holders, among other things.