The OnlineGolf 2018 Buyers Guide to Golf Luggage
Whether on a business trip, family holiday, or just a weekend away, make sure there's space for all your essentials (by essentials, we mean golf gear!).
At OnlineGolf, we offer all our customers a great range of luggage to help them travel in style, which is why we stock bags for all kinds of transport. Carry your clothing and accessories easily in any of these lovely branded bags, and take away the hassle of travelling for a round of golf.
This buying guide to golf luggage is packed with everything, from what's available, to their benefits and ease of use. We've also thrown in some product suggestions in case you're having trouble making a decision on which brands to get.
Duffle Bags
Duffle bags are some of the most frequented types of luggage used by golfers. This is due to them being incredibly lightweight and roomy; ideal for weekends away or golfing holidays.
Duffle bags are larger than backpacks, tote bags and weekend bags. They are also pretty large, allowing for more storage options. Most duffle bags can be purchased in small, medium and large.
Mainly made from nylon, duffle bags have excellent waterproof exteriors, and can be taken to almost anywhere in the world without becoming worn out.
Some of the best duffle bags on the market today include the Nike Golf Departure Duffle III Bag, Under Armour Undeniable II MD Duffel Bag, FootJoy Canvas Duffel Bag and Nike Golf Sport III Duffle Bag.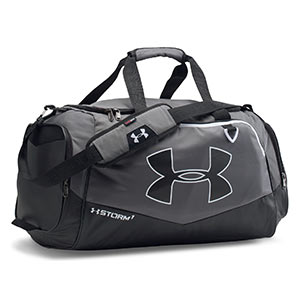 Practice/Golf Ball/Shag Bags
Practice bags (also known as golf ball bags or shag bags) are used predominantly for practice purposes and not the golf course. These bags, like the TaylorMade Practice Ball Shag Bag, are great for collecting and carrying golf balls to and from the practice range. The bags are small and lightweight, fit easily into a car boot or locker, and can hold a large amount of golf balls.
Shag bags are ball bags that have a funnel which collects golf balls as you place the funnel over them, saving you from having to bend down.
Luggage Accessories
Every piece of golf luggage should have a nice bag tag to help you identify which bag belongs to you. Placing a name and address on one of these and attaching it to the luggage will make it quickly and easily identifiable when retrieving it after a plane or coach trip.
We stock a great range of golf luggage for players looking to enjoy their golf in the sunshine, so be sure to check out our dedicated golf luggage section at OnlineGolf today.