The OnlineGolf 2018 Buyers Guide to Golf Handhelds
Since finding their way into the bags of golfers, GPS handhelds have become the hottest products on the market, to the point where almost every player owns one device or another.
It's not just tech-savvy golfers who are reaping the benefits afforded by GPS devices, however; golfers of all ages and skill level utilise GPS navigation to enhance their play on a regular basis.
Our buying guide to handheld GPS systems will give you all the advice necessary to help you decide which model is best for you.
What is a handheld golf GPS
Put simply, handheld GPS systems are all about yardages. Although there are many other benefits to using a GPS device on the golf course, knowing how far the pin is from your current location ranks top of the pile.
Almost every GPS device will give distances to the front of the green, or yardages to the front, centre and back of the greens, while most also provide measurements to two of three additional hazards at each hole.
Before you buy
There are so many handheld GPS available on the market right now, at at OnlineGolf, we stock a wide range of devices from a variety of trusted brands. However, before choosing a device based solely on how it looks, or because you like the sound of certain features, we recommend taking a few other points into consideration first.
Try for a moment to ignore the wealth of technology packed into a GPS device, and concentrate on how well it will work for you once you're on the greens. First, is the GPS device weather-hardened? A good GPS device should be workable in wet and windy conditions, so checking to see if the device is waterproof or rainproof, and also impact-resistant, is essential.
Also, an anti-glare screen will come in handy during warmer weather, so check to see if the GPS device offers this as well.
Play better with a handheld GPS
As well as delivering excellence in golf course management, GPS handheld devices can also improve your own personal game. Many models now offer the option of being able to track your game: storing information about fairways hit, greens in regulation, driving distances and sand saves. For players who love their stats, or those who would like to better understand where they're at as a player, should consider a GPS handheld device.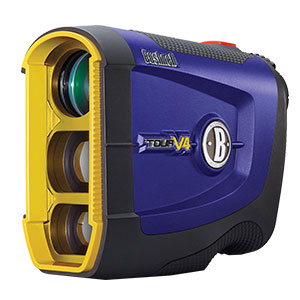 Pre-Loaded Golf Courses
We aren't all fans of technology, so it stands to reason that some golfers might want to avoid a device which needs constant updating via the internet every time you play a new course. And, although some GPS devices still require downloading every single course, most GPS these days have pre-loaded golf courses already downloaded and ready to play straight out of the box.
Pre-loaded golf GPS devices can store from 6000 golf courses nationwide, up to a mouth-watering 50,000 golf courses worldwide; and are readily available for use without costing a penny over the retail price. Pre-loaded devices offer the same functions as subscription GPS devices, including pinpoint scoring for yourself and a fellow golfer, shot distance measurements to front, middle and back of the greens, and still uncover hazards lurking about the course, so best practice dictates choosing a pre-loaded GPS device such as the Garmin Approach G30 GPS, SkyCaddie LINX GT Tour Edition, SkyCaddie Linx GT GPS and Tracking System, Garmin Approach G10 GPS, GolfBuddy PT4 Platinum GPS, Garmin Approach G8 GPS, GolfBuddy CT2 Micro Handheld GPS, Izzo Golf Swami 4000+ GPS and Izzo Golf Swami Sport GPS.
Subscription GPS Devices
Some GPS systems ask that you sign up for a subscription to play all their golf courses, so be sure to read the product descriptions on our website before buying any GPS which you're unsure about. Of course, some golfers might want a subscription-based GPS device, so they, too, need to read through product descriptions thoroughly to make sure they're getting the right model.