The OnlineGolf 2018 Buyers Guide to Golf GPS & Rangefinders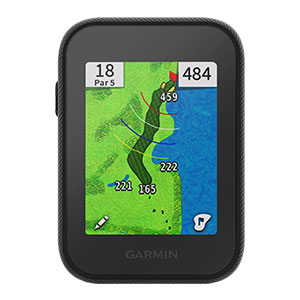 Since finding their way into the bag of golfers, GPS and rangefinders have become the hottest products on the market, to the point where almost every player owns some kind of device or another, be it pocket-sized, handheld or larger.
And it's not just tech-savvy golfers who are reaping the benefits afforded by GPS and rangefinder devices, either. In fact, golfers of all ages now actively utilise GPS navigation or laser distancing to enhance their play on a regular basis.
Our buying guide to GPS and Rangefinders will give you all the advice necessary to help you decide which type of device is best for you, as well as detailing all the little gems which are new and currently available at OnlineGolf today.
GPS Navigation Systems
GPS devices are incredibly useful on the greens; helping to lower scores by giving you an indication of what's up ahead, and how far everything is.
Most of us don't walk the local greens with a caddie in tow, so many games come down to guesswork when trying to determine distance to the hole and various other course targets, such as bunkers or dog-legs. GPS devices give you quick, accurate guidance from anywhere on the golf course, with certain models going beyond the basic distance-to-the-hole data and actually telling you the length of your last shot, distance to (and location of) targets and hazards, and distance to the front, middle and back of the green. All GPS devices are different, however, and you can view the full range at OnlineGolf to find what's best for you.
Pre-Loaded GPS Devices
We aren't all fans of technology, so it stands to reason that some golfers might want to avoid a device which needs constant updating via the internet every time you play a new course. And, although some GPS devices still require downloading every single course, most GPS these days have pre-loaded golf courses already downloaded and ready to play straight out of the box.
Pre-loaded golf GPS devices can store from 6000 golf courses nationwide, up to a mouth-watering 50,000 golf courses worldwide; and are readily available for use without costing a penny over the retail price. Pre-loaded devices offer the same functions as subscription GPS devices, including pinpoint scoring for yourself and a fellow golfer, shot distance measurements to front, middle and back of the greens, and still uncover hazards lurking about the course, so best practice dictates choosing a pre-loaded GPS device such as the Garmin Approach G30 GPS, SkyCaddie LINX GT Tour Edition, SkyCaddie Linx GT GPS and Tracking System, Garmin Approach G10 GPS, GolfBuddy PT4 Platinum GPS, Garmin Approach G8 GPS, GolfBuddy CT2 Micro Handheld GPS, Izzo Golf Swami 4000+ GPS and Izzo Golf Swami Sport GPS.
Subscription GPS Devices
Some GPS systems ask that you sign up for a subscription to play all their golf courses, so be sure to read the product descriptions on our website before buying any GPS which you're unsure about. Of course, some golfers might want a subscription-based GPS device, so they, too, need to read through product descriptions thoroughly to make sure they're getting the right model.
Rangefinders
Rangefinders are excellent for finding the range of a target, cutting out the number of wayward shots recorded during a round due to not knowing precise yardages and obstructions.
Rangefinders are the alternative to GPS devices, though they work in quite a different way. Rangefinders do not require a player to download golf courses, or do they rely on satellite signals like a GPS. When using a rangefinder during play, simply point the device in the direction which you want to hit the golf ball. The rangefinders high-tech lasers will then bounce a signal off the target, relaying back information to the handset which helps work out the distance to hole, hazard or fairway.
Rangefinders are ideal for bunkers, flags and dog-legs, among others things. Additional benefits include the function to measure the change in elevation or changes in temperature. These features are currently banned from competitive play, however, as they lend an unfair advantage, so will need to be switched off before playing unless you want to risk disqualification.
Rangefinders perform very well almost all of the time. However, be aware that very bright sunshine or thick layers of fog and rain may cause the lasers to be slightly less effective due to lack of clear targets being visible. Especially poor weather can block the laser pulses which measure distances, thus causing the possibility of less accurate readings.
However, 99% of the time, and when used in the right weather conditions, rangefinders can offer superior accuracy over a GPS system, and they're also ideal for use on the driving ranges, too.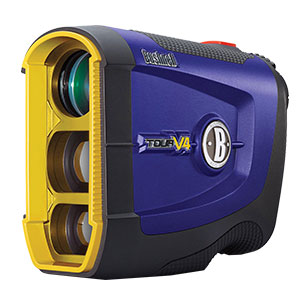 The best rangefinders for 2017 include the Bushnell Tour V4 Ryder Cup Rangefinder, Bushnell Medalist With Pinseeker Rangefinder, Callaway Golf Laser 300 Laser Rangefinder Power Pack, Bushnell Tour X Rangefinder, Bushnell Tour Z6 JOLT Laser Rangefinder, GolfBuddy LR5 Laser Rangefinder, Bushnell Tour V4 Rangefinder and Bushnell Tour V4 Rangefinder Slope Edition.