Review: FootJoy Chest Stripe Polo Shirt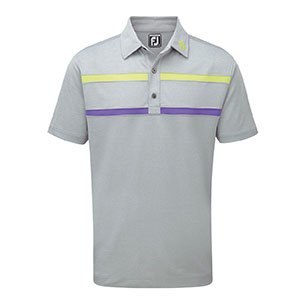 The FootJoy Chest Stripe Polo Shirt has been made with Pro Dry Technology fabric to draw moisture away from skin and thermal properties to allow the body to remain regulated and comfortable from first tee to last.
It isn't often that a golf shirt comes along which ticks all the boxes, but then FootJoy's Chest Stripe Polo isn't a regular top. Made from 96% polyester and 4% elastane, players can feel instantly fresh upon playing a few rounds in this lightweight attire.
Furthermore, the polo shirt provides excellent UV protection from sunlight by utilising SPF 30+, as well as offering incredible moisture wicking fabric to draw perspiration away from skin and evaporating it outside of the clothing.
The design, too, is one of total convenience for every player. With stylish contrasting chest stripes and 3-button placket and collar, plus an extra-long tail to make the shirt work better when stretching or moving around, this shirt is perfect for the active golfer.
For ease of usage the shirt has an easy care system that avoids wrinkling and shrinkage. Finer details include a contrasting colour FJ brand logo on the collar.
Be comfortable, stylish and ahead of the trend this summer with the FootJoy Chest Stripe Polo Shirt, an innovation of modern sport technology.
View the full range of FootJoy Golf products now.