adidas adizero one Golf Shoes Reviewed
addias Golf are one of the industry leaders when it comes to innovative technology and performance, and with the announcement of their next generation of adizero golf footwear, adizero one, the market is starting to really hot up in 2014.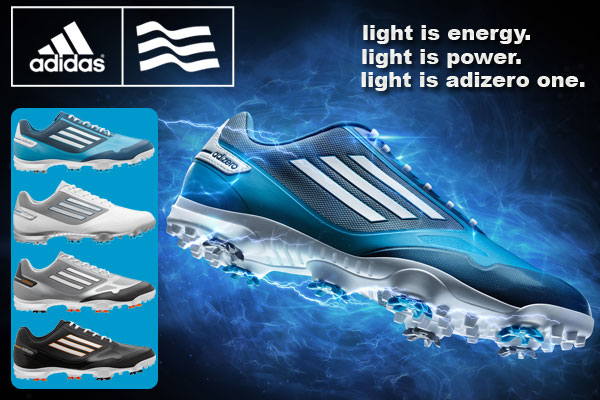 High praise was heaped upon the company when they launched the ever-popular adizero Tour in 2013, and their challenge in sustaining that success has now moved onto the adizero one shoe, a radical redevelopment of the franchise that offers incredible comfort, durability and performance from the first tee to the last.
10% lighter than its predecessor and weighing in at only 272 grams, the adizero one is the lightest golf shoe ever created. Coupled with more stability than ever before, this golf shoe delivers maximum performance and Tour-level traction time and again.
Unlike traditional golf shoe construction which requires the stitching of multiple layers, adidas golf designers pushed the limits of engineering to create an ultra-light, one-piece fused upper that perfectly bonds together five layers to deliver a consistent feel on the foot, similar to slipping into a warm comfortable glove.
A lighter, thinner seven-cleat performance outsole helps further reduce weight while retaining that same level of stability a player needs to play at their unbeatable best. And the adizero one measures a whopping 20% wider than its adizero Tour cousin, too! adidas has taken into account feedback from top Tour professionals and biomechanical analysis to strategically locate the seven cleats, highlighted by a revolutionary and proprietary centre cleat using CenTraXion™ technology to provide the wearer with unbelievable grip while maintaining stability throughout every golf swing.
"We're constantly looking to test the boundaries of engineering to design and develop equipment that helps golfers perform at their peak," said Masun Denison, Director, Global Product Marketing, Footwear at adidas Golf. "adizero one is a perfect example of our relentless pursuit of innovation to consistently create the best-performing footwear in golf." And that they have!