Review: Wilson Staff Nexus Stand Bag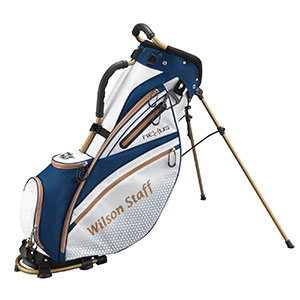 Has Wilson Staff just created the most inventive carry bag for many years? They just might have…
The Nexus is unlike anything we've seen before in a carry bag. Made from a unique external structure known as exo-frame technology, this bag can go the distance while keeping all players' clubs neatly aligned and protected at all times.
This brilliant carry bag features Wilson Staff's brand new 360° integrated mechanism, which is where the rock-solid aluminium frame connects the spine, top, stand and base to work independently. So when the base makes contact with the ground, a smooth and quick stand mechanism is activated and the legs spring out instantly – keeping the bag standing upright at all times.
And there's storage! Apart from having a very generous garment pocket, the Nexus also has two external valuable (and sealed waterproof) zippers, a large accessory, golf ball and GPS/Rangefinder sleeve and of course a handy insulated beverage sleeve pocket.
Finally, but by no means less exciting, comes the comfort. While carrying the Nexus bag about the course, there is a built-in four-point strap system which will never let you down. Not only does it add comfort to the back and shoulders, but it also looks and feels great too.
Other additions which the bag has include umbrella holder, Velcro glove patch, rain hood and a large towel ring.
So if you're looking for a new golf bag, why not check out the Wilson Staff Nexus Stand Bag – the future of modern golf.
View our full range of Wilson Staff products to find the very best products to help your game.