CaddieOn GPS Tracker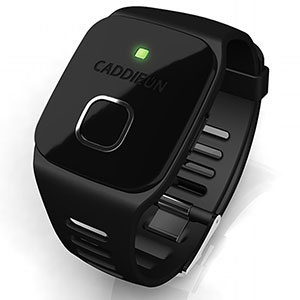 The CaddieOn GPS Tracker has landed at OnlineGolf! Now you can have all the knowledge of the golf course at your fingertips, or more accurately, strapped around your wrist.
Designed in a smooth black finish, the CaddieOn GPS Tracker watch will look good as well as unlock all the secrets of the greens for a more prosperous round.
Identification Tags & Wrist Device
This where the CaddieOn GPS Tracker watch really comes into its own. After placing the RFID tags onto the top of your golf clubs you can turn them into "Smart" clubs. This allows CaddieOn to automatically track every club you use for each stoke. These tags lease with the sleek, lightweight wrist device with timeless look to track every stroke you make and clubs you use. This is the height of technology people, and we're liking it!
CaddieOn Application
Of course, this simply wouldn't be modern-day technology if it didn't have an app, which is exactly why the CaddieOn GPS Tracker has an app which is easy to install and simple to use.
After opening the app, simply select your chosen golf course and you're ready to play. Please check before purchasing that your golf course is on the course listing http://www.caddieon.com/support/golf-courses/courses/.If your golf course is not on the list you can request up to maximum of 10 specific golf courses by e-mailing support@caddieon.com, anything over the limit may incur a small in-app fee. CaddieOn support will then upload your course onto the selection view for you to choose.
This app also allows you to keep your focus on the game as it automatically scores your round. You will have access to GPS-based distances to water hazards, bunkers and more thanks to the satellite map view of the fairway. You can check your results and gain guidance for optimal playing strategy, which is an added bonus when checking back over your previous games.
CaddieOn Player Portal
After completing a round of golf, you will have access to sophisticated player statistics and informative graphical reports of your game. You can compare your results to friends and other players, and can also share your rounds with others and comment on your friends' game (Also available on Facebook). Keep all your game data stored in one place to see your progress, thus allowing you to focus on improving the weaker parts of your game.
The CaddieOn GPS Tracker Watch is packed full of the most advanced sport technologies to give you the edge on the golf course, and it's available now from OnlineGolf.