The new Garmin Approach S6 GPS Watch is here!
It's almost here! The Garmin Approach GPS Watch – a slim, lightweight, feature-packed hi-resolution colour touchscreen golf watch with first-of-its-kind swing metrics – can soon be wrapped around every golfer's wrist!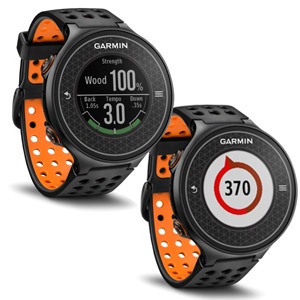 SwingTempo & TempoTraining
The Garmin Approach S6 GPS Watch allows you to train your swing using SwingTempo and TempoTraining metrics. SwingTempo measures the relationship between upswing and downswing and expresses it as a ratio. In studies of successful golf swings, an ideal ratio of 3:1 has emerged, even with individual variations of speed. TempoTraining uses the 3:1 ratio and gives you audible tones to synchronise swing mechanics and fine-tune swing tempo. Which makes S6 as valuable on the driving range as it is on the golf course.
CourseView button & PinPointer Blind Shot Assistance
The Garmin Approach S6 GPS Watch has a full-colour course view for more than 30,000 international courses as well as a dedicated CourseView button to get you to the second shot view more quickly. And you can also preview doglegs, traps and hazards, as well as pin positioning from wherever you are on the greens or in the clubhouse.
PinPointer blind shot assistance feature – which was previously only available in Garmin's top-of-the-range handheld lines – gives golfers a directional arrow to the green. This makes it easy to know where to line up a shot, even when playing out of woods or deep bunkers.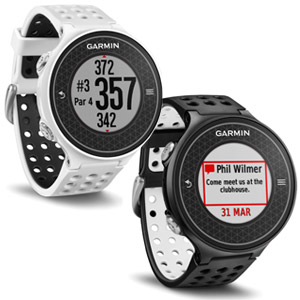 Handicap Scoring Options
The Garmin Approach S6 GPS Watch has handicap scoring options for individual holes, player's local handicap or index/slope method. Scoring options include Stroke play and Stableford, and players can save, review, share and print scorecards from their computer. Plus, when players hit a big shot they can see how far it went with the Measure Shot feature.
Long Lasting Performance
Garmin's S6 GPS Approach Watch is water rated to 5 ATM (50 meters), it displays yardages to the front, back and middle of greens on a high-resolution, glove-friendly color touchscreen. It lets you manually position the pins, get distances to doglegs and layups, customize yardage points (mark traps and hazards) and print digital scorecards for Stroke play and Stableford. Increasing the performance of this watch is the fact that the S6 features more battery life for longer play or more rounds. Easily get in a weekend of GPS golf with up to 10 hours in full GPS and up to 20 weeks, depending on mode, before the lithium-ion battery needs to be recharged.
Garmin Connect™ Golf & Smartphone Notifications
While playing, still receive text messages, emails and alerts to your phone. The S6 acts as a wireless extension of an iPad ® or iPhone® 4s (or later), displaying whatever the device does, right onto the face of the watch. Texts and emails are easy to read via Bluetooth®, even in the middle of the fairway so you'll never miss an important message while playing.
Garmin Connect is the online golf community that lets you play and then share or compare your games with others. You are able to download your last round and contrast it to a previous outing, or track improvements to handicaps for every course that you've played.
The Garmin Approach GPS Watch is now available for pre-order from OnlineGolf.
* Estimated stock arrival end of August (subject to change).