Bridgestone Golf Cart Bag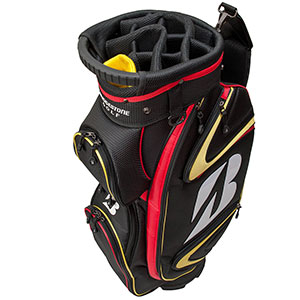 With large storage pockets, a 9" 14 way divider system and thick padded carry strap, the Bridgestone Golf Cart Bag needs to be on every golfer's must-have list.
The Bridgestone Golf Cart Bag demands your attention right from the off with its wonderful colour designs and stylish patterning. Not to mention the Bridgestone branding etched on either side of the bag.
But perhaps it's the ridiculous storage option afforded to the golfer which really sets this bag apart from so many of the others. Unlike a regular golf bag which might have two or three medium-sized pockets, the Bridgestone Golf Cart Bag has a whopping 7 pockets! They include 2 apparel pockets, a valuables pocket, golf ball pocket and 4 additional accessory pockets. With this much space available, you'll be trying to find golf equipment to put in there!
A small carry handle has been placed onto the bag for short bursts of transportation and comes with a padded single strap for comfort as well as easy moving. The bag also comes complete with a clip to attach your golf towel onto, which is a neat and useful addition to this already brilliant bag.
The Bridgestone Golf Cart Bag will benefit all golfers, especially if you like to bring a lot of accessories onto the golf course with you, and its available now from OnlineGolf.