Callaway Golf XR 16 Driver & Fairway
When you want something to go fast – and we mean really fast – who do you turn to? Well, if you're Callaway Golf, that someone is an easy choice: Boeing. So they began working together, sharing knowledge and ideas. And this, ladies and gentlemen, is the result.
The Callaway Golf XR 16 Driver is the most aerodynamic model the brand has ever produced. Featuring a plethora of fresh new tech design to help every golfer churn out the very best performances, you'll gain power and precision right through the clubhead.
Boeings Aero Influence
Callaway Golf worked closely with Boeing and the results have yielded a very different clubhead design to last year's popular XR Driver. The head is longer and shallower, with ridges along the bottom to improve airflow at the back of the club and a redesigned Speed Step on the crown to yield better airflow over the top of it. This resulted in 30% less drag from the crown and 10% less drag from the face; 2mph more head speed than the XR could achieve.
Even Greater Forgiveness
Again when compared to last year's XR, the 16 has a larger shape for more inertia, a stretched-out crown with a bigger footprint and a centre of gravity that is lower and deeper. The body has been made from a lower-density titanium that's lighter than the old model, meaning the entire thing now weighs 310g – lighter means easier to swing faster! Callaway's OptiFit hosel offers a total of eight possible loft and lie combinations.
Faster Face
Callaway uses RMOTO face (which means ribs for motion control) and it works by hidden ribs to connect the face, sole, face and crown to improve golf ball speeds – particularly on shots hit off-centre. Its design is lighter and thinner than before, and made from a stronger titanium. The result, Callaway says, is more speed. Yep, even more still.
The Pro Version
The Pro version benefits from aero tech, too, but it has a 450cc head and a more neutral centre of gravity location. Callaway says it provides the distance and forgiveness of the XR16, in a smaller package better players prefer.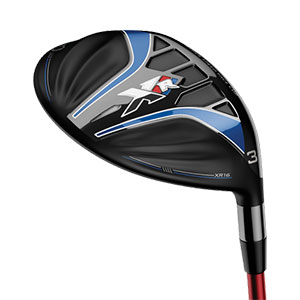 Callaway XR 16 Fairway
Callaway has combined its highest MOI, a low centre of gravity and its springiest face ever found in a fairway wood together. The company has also added a Forged Hyper Speed Face Cup which is thinner, hotter and has a larger sweet spot.
The Pro version of the XR 16 Fairway gives players all these same benefits but with a slightly smaller head.
The Callaway Golf XR 16 Driver & Fairway are available today from OnlineGolf.