Pros advice
2017 TaylorMade Golf M Series Range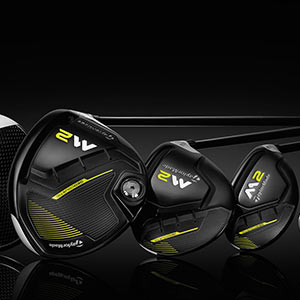 The 2017 TaylorMade Golf M Series arrives in January, and features brand new drivers and irons for players who loved the feel and performance of the brand's previous M1 & M2 ranges.
M1/M2 Drivers
The 2017 M1 and M2 drivers deliver more distance and greater forgiveness through reimagined multi-material construction, and can be personalised with premium shaft options.
M1 Driver
The new T-Track system comes with 27 grams of moveable weight which allows for 64% more front-to-back CG movement than the original M1. Now golfers can achieve greater adjustability and precise golf ball flight control on every shot.
The M1 driver has a precision-fit carbon crown and new carbon toe panel which helps to free up discretionary weight so it can be relocated for lower center of gravity (CG). It is this extra 43% of carbon fiber which really helps promote incredible distances.
M2 Driver
The M2 driver brings forth a new level of distance and forgiveness for golfers thanks to its all-new geocoustic sole shaping, which unlocks performance through advanced geometry. This means the 2017 M2 driver's sunken sole shape enables a larger clubface with added forgiveness.
Geocoustic sound management has also been introduced. This advanced sole-shaping with external sound ribs optimises vibration for exceptional sound and feel whenever the golf ball is struck.
M1 Irons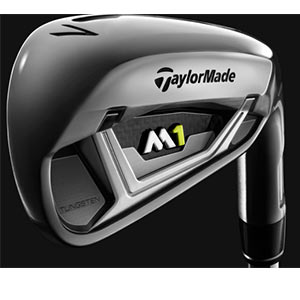 The 2017 TaylorMade M1 irons are all about control in every shot, and its Face Slot technology maximises distance and forgiveness. Face Slots preserve golf ball speed on shots struck toward the heel or toe, making every mis-hits better and a golfers' best shots nothing short of extraordinary.
The M1 irons' lower CG, Geocoustic engineering, and the addition of Face Slots combine to make it most technologically advanced iron ever produced. It has a low-profile, multi-material head construction with more workability and control, so players always feel on top of their performances.
M2 Irons
If the M1 irons deal with control, the M2 Irons excel when it comes to excellent levels of forgiveness. Its Face Slots provide added forgiveness by promoting a tighter dispersion on shots struck toward the heel or toe, while Speed Pocket technology helps preserve golf ball speed on shots struck below center to produce greater distance and consistency on mis-hits.
The new M2 irons' re-designed fluted hosel frees up discretionary weight and relocates it for lower CG, which produces higher launch with more forgiveness. The mass from the topline has also been removed and repositioned for lower CG. Internal sound ribs actively manage unwanted pitches for optimal sound and feel.
Geometric construction and acoustic engineering are brought together in a multi-material badge, which dampens unpleasant pitches for confidence-inducing sound and feel.
Latest News
OG News: Jarrod Lyle confirms he's in "palliative care"

The golf world, and many out of it, have been left rocked by the news that Jarrod Lyle is going into palliative care after claiming he is "no longer able to fight."
Read more

OG News: Two events left for McDowell to secure PGA Tour card

Graeme McDowell will have just two events to secure a PGA Tour card which would enable him to play in the United States next year after failing to qualify for next week's USPGA Championship in Missouri.
Read more

OG News: Leona & Lisa Maguire sign deals with Puma Golf

PUMA Golf a leader in golf apparel, footwear and accessories are pleased to announce the signing of sisters Leona & Lisa Maguire with immediate effect.
Read more
club.news.more
Latest Videos
Video: Callaway Chrome Soft & Chrome Soft X

Chrome Soft Golf Balls combine Tour-proven performance with unparalleled feel and exceptional mis-hit forgiveness. Everything about the ball that changed the ball is better because of the innovation at every layer, starting with Callaway's groundbreaking new Graphene Dual SoftFast.
Read more

Video: Cobra Golf KING F8 Iron Tech

KING® F8 Variable and ONE Length™ irons are equipped with COBRA CONNECT™. Automatic shot tracking technology Powered By Arccos™.
Read more

Video: Octagon

The driver face is outdated. TaylorMade thinks its found the solution and sat down with five of its biggest players to see their reactions as the most twisted driver innovation is revealed. Are you ready to see?
Read more
club.news.more