2017 Golf Putters
Golf putters make up almost 50% of all shots on the golf course, making it one of the most important clubs in a players' bag.
If you're looking to pick up a golf putter for the very first time, or simply want to upgrade, then this buying guide will give you all the information about putters, its uses and which brands to consider.
Putter balances
Putters have varying balances which offer different performances for players, and this section details what's available, and what you should be looking for.
Mid-slant
Mid-slant golf putters balance at around 45 degrees, and are the traditional favourite among players. Mid-slant putters have a full shaft offset, encourage less rotation for slighter arc stoke type, and help achieve greater balances in performance. The mid-slant putter was initially brought into the mainstream by PING, and received critical acclaim that drove it towards legendary status. Similar iterations exist today, and any mid-slant putter should be well worth your time.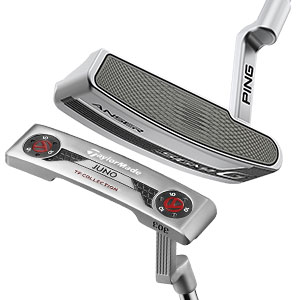 Face-balanced
Face-balanced putters point upwards should you balance the shaft on a finger, and this means that centre of gravity is directly below the axis of the shaft. This allows the golf club head to remain in the square position throughout, and straightens the putting stroke during forward flows of motion. They are ideal for straight strokes with a back and through approach.
Toe-down
Toe-down golf putters are immensely popular, especially for golfers with an in-to-out-to-in or very strong arc stroke type. These putters enable you to power through the swing without over-indulging and missing the hole. Interestingly, if you were to lay a toe-down putter down horizontal, the toe would point to the ground; hence the name!
Golf putter shapes
This section explains different putter shapes and how best they perform on the golf course.
Golf putter shapes
This section explains different putter shapes and how best they perform on the golf course.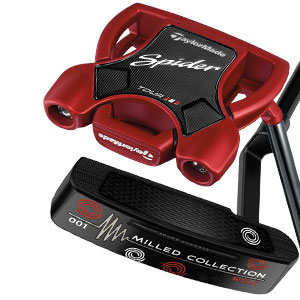 Peripheral Weighted
From oldest to newest, modern putters are Peripheral Weighed. They have added weight in the heel and toe for increased MOI (moment of inertia) which measures how much the golf club head twists. The higher the MOI, the less twisting occurs on off-centre hits. This allows for straighter putts even on the occasional miss-hit connection.
Golf Putter Face Technology
This section details golf putter face technologies and how they work.
Groove Face
Groove faces are made from metal that gets the golf ball rolling immediately upon impact. The significant rise in groove face putters is down to them having a lack of any real drawbacks. Grooves also manage to halt the golf ball from skidding, sliding and back spinning; even reducing the risk of 'hopping' before the golf ball gets off on a roll down the greens.
Metal Face
Metal face putters give important feedback through feel and sound, immediately allowing you to hear any connection made with the golf ball the moment impact is made. Softer materials limit sounds and give less feedback, too, making this one of the best putters around.
Golf Putter Insert Technology
The ever-evolving world of golf would be nowhere near as interesting without the ever-evolving golf equipment that comes with it. And technology is no exception. From rubber to elastomers, right through to ceramic and composites and other metals, it's this variety of material that really helps Insert Technology to chisel out the perfect performance. Using lighter materials allows for more MOI to be produced, and this in turn helps to reduce hopping, skidding and other impact issues.