The OnlineGolf 2018 Buyers Guide to Golf Irons
Golf irons make up a large proportion of a player's bag, which makes the choice of which irons to use one of the most important pre-game. There's plenty of golf irons available right now, and each offer different specifications for your game, so trying to find the best iron for the greens can be a tough challenge.
This buying guide to golf irons reveals which brands are best for your specific needs, while also helping golfers decide on brand, shaft and a wealth of other important aspects before hitting the golf course.
Super game-improvement irons
For high handicap golfers, getting the golf ball airborne quicker should be a priority, which is where super game improvement irons come into play. Offering the highest possible offset, these irons will help the golf ball rise as high as possible. Super game improvement irons offer lowest C.O.G (centre of gravity) to help with golf ball flight, and also come with the largest golf club head perimeter for a more forgiving performance.
The Cobra King F7 ONE Steel Irons, Mizuno Golf JPX900 Irons Graphite 4-PW and Wilson Staff D-100 Irons Steel 5-SW all offer a proper feel and feedback on almost every shot. Ideal if you're a high-handicapper looking to improve gradually.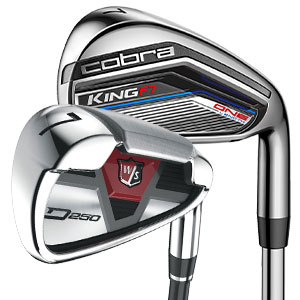 Intermediate irons
Improving golfers will want to have intermediate irons in their bag, as they should be beneficial to developing their game. Check these irons have dual forgiveness and core performance, as this can result in an 8-17 handicapper finding COG slightly easier, although these golf clubs also bring with them a steeper angle and carry less weight.
Mizuno Golf JPX900 Tour Irons Steel 4-PW, Cobra King Forged ONE Steel Irons, Cleveland Golf 588 TT Irons Steel 5-PW, and TaylorMade PSi Irons Graphite 4-PW are all excellent golf irons which players at intermediate level should be using.
Player's irons
The most experienced golfers should use player's irons, which work primarily to shape shots and enhance feel. A golfer with a handicap of 0-10 (low) will find these irons ideal, taking advantage of the lowest and deepest COG available.
Best low-handicap irons include the PING iBlade Irons Steel 4-PW, Mizuno Golf MP-5 Steel Irons and Titleist MB 716 Irons Steel 4-PW.
Choosing golf club heads
Cavity Back
Cavity back irons are incredibly forgiving. Placed where the back of the golf club head has been hollowed out to remove weight from behind the centre of the club face, it allows more of the clubs' head mass around the perimeter to change to the physical appearance and weighting characteristics. The physics of impact between club face and golf ball are also adjusted. Cavity back irons are easier to hit, and achieve excellent forgiveness for most golfers.
Over-sized Cavity Back
Over-sized cavity back golf club heads are the easiest to hit as the head surface area is far larger and the majority of its weight is stored around the perimeter. The head is more forgiving than its smaller counterparts, and off-centre hits will fly straighter for longer, too.
Muscle Back
Muscle back irons show the full back of the golf club, as opposed to the hollowed out cavity back irons. Muscles offer the golfer better feedback from shots, while also demanding contact with the centre of the clubface for greater consistency. If you use a muscle back iron, then you run the risk of losing significant distance, as well as also getting a worse feel on off-centre hits. Muscles have higher COG that's able to produce lower trajectory, which is preferred.
Blade
Blade irons place weight behind the middle of the golf club, and are also very forgiving, punishing ever mishit, so be wary when playing with these irons. Blades are, however, preferred by the larger community of golfers due to its feel and workability on the golf ball. Blade irons are also softer at impact, having a similar sweet spot to make each strike harder to perfect, although mastering this golf club is well worth the added effort.
Cast & forged golf club heads
Cast Head
Around 90% of golfers play with cast heads – whether they know about it or not. Casting is the process of pouring molten metal into a mould to produce a golf club head. Cast heads are cheaper than forged, and easier to handle. Certain brands will claim cast golf club heads are softer, so consider this prior to purchasing as the harder the face, the faster the golf ball will travel.
Forged Head
Forged golf club heads are made by taking a piece of soft metal and beating it vigorously until it works into shape. A lot of golfers claim forged clubs have an enhanced feel because the steel used in forging is softer due to the higher level of carbon content. Forged golf clubs have softer feel on hits, as well as offering greater control. Forged golf club heads are preferred by golfers of a lower handicap, and cost more than a cast head--but will certainly do the trick.
Selecting Shaft
Steel shafts
Steel shafts are weightier when compared to graphite and therefore increase the accuracy in each shot. A golfer with an average swing speed that is quick can really benefit from using steel shafts.
Graphite shafts
Senior and lady golfers fare better with a graphite shaft, as the weight is lessened and quicker swing speeds are encouraged for achieving greater distance. They are suited to golfers with slower swing speeds.
Shaft 'Flex'
The 'flex' in a shaft should be taken into consideration as it refers to the ability of a golf shaft to bend as more force is applied during swing. This force is determined by the kind of golf swing you currently possess, whether it's fast, slow, smooth or abrupt and jerky, and also the 5 generally used ratings for shaft flex, which is extra stiff, stiff, regular, senior (light) and ladies.
As the shaft flexes throughout its swing, the position of the golf club head begins to change; it must be perfectly straight or squared at impact to get the most from each shot. There's less chance of you making contact with the golf ball using a square golf club face if you have the wrong flex for your swing, so make sure this is corrected before hitting the greens.