The OnlineGolf 2018 Buyers Guide to Golf Hybrids
Rescue woods or hybrids were designed to replace the harder to hit irons in a golf bag. Typical iron sets include a 3-PW (8-iron), with many golfers struggling to hit the 3, 4 and 5-irons consistently. The solution to this problem: a hybrid.
A unique crossover between an iron and a wood, hybrids have dual characteristics which can benefit you on the golf course. These golf clubs are easier to hit and have larger, more forgiving heads, while also offering similar accuracy properties to an iron, but with shorter shafts and an iron-like face for control enhancement. Hybrid clubs are also brilliant to have when trying to achieve better hits from poor lies or rough. This means you can free the golf ball and send it soaring through the air without causing damage to your scorecard.
Choosing the right hybrid handicap
Equip yourself with the right equipment for the new season by choosing a golf club that plays to your ideal handicap.
High-handicap hybrids
For golfer who are just starting out, or who aren't too confident on the golf course yet, getting a high-handicap hybrid golf club in the bag is pivotal.
A good recommendation is to have at least a 3 and a 4 hybrids; replacing the 3 and 4 irons as this is certain to bring correct trajectory into your game. It is also worth considering switching the 5 iron with a hybrid, though this is dependent on personal performance. High handicap golfers won't miss a 3 and 4 iron if it's removed from their golf bag, and at this level it's recommended to use a graphite shaft with regular flex. Ladies or senior golfers can use the senior flex or L, respectively.
Some of the best hybrids for high-handicap golfers include the Cobra Golf King F7 Hybrid, Mizuno Golf JPX900 Hybrid, Wilson Staff D300 Hybrid, TaylorMade SLDR S Hybrid and Callaway Golf Steelhead XR Hybrid.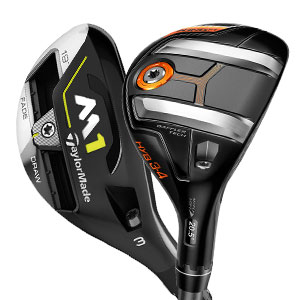 Mid-handicap hybrids
Mid handicap golfers should be well acquainted with hybrids, but if for some reason you've never given them much time on the greens, then make this year the time to put a couple in your bag.
Hybrids are a must for mid handicappers or intermediate players. The shaft options are purely optional based on personal preference, though steel and graphite are the go-to clubs for almost all golfers, with steel being slightly more popular due to matching the majority of other clubs in the bag. Graphite, however, is lighter in construction and longer, so there's an argument to be made for both variants.
So, what is out there for the mid-handicapper this season? The TaylorMade M2 2017 Hybrid, Nike Golf Vapor Fly Tensei Hybrid, Mizuno Golf JPX Fli-Hi Hybrid, Cobra Golf Fly-Z XL Hybrid and Callaway Golf Big Bertha OS Hybrid are all excellent options and should be considered.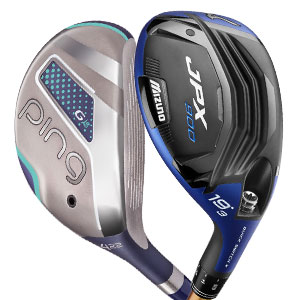 Low-handicap hybrids
Low handicap golfers may choose to stick with the irons already in their set, although top golf pros have started to use hybrids instead of 2 and 3 irons and this points to it being a good idea to try them out and see if they add or subtract anything from your game.
The higher trajectory achieved from using a hybrid means a softer landing for the golf ball on the greens than what an iron can manage; they are much easier to hit from the rough, too.
Low handicap golfers will benefit from using the TaylorMade M1 2017 Hybrid, Callaway Golf Apex Hybrid, PING G Tour 90 Hybrid, Titleist 816H2 Hybrid and Cobra Golf Fly-Z Orange Hybrid.