The OnlineGolf 2018 Buyers Guide to Golf Fairway Woods
Our buying guide to fairway woods will help you get to grips with the basics of these versatile golf clubs, while also offering advice on which models are best suited to your handicap.
The basics for buying fairway woods
Traditionally, a fairway wood starts at 2 and goes all the way up to 15. Of course, modern golfers seek modern golf clubs, and the 3 and 5 woods are used more frequently these days, while 3-woods typically have a loft of 15°, and 5-woods 19°.
Fairway woods have similar lofts to long irons and generally hit the golf ball further distances as the club head is slightly larger. Fairways are predominantly used on – big surprise – fairways, though they can also be used from the tee or on holes that are tighter than usual, and require accuracy rather than distance.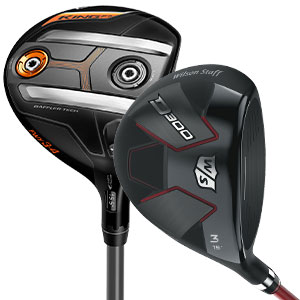 High-handicap fairway woods
High handicap golfers need to be aware of what they are putting in their bags. A lot of golfers at this level will opt for a 3-wood and a 5-wood, though a 7 is also fine. You will notice immediately that trajectory is higher than your driver achieves and this means the golf ball will land a lot more gently. Use fairway woods for second shots and teeing off.
Good practice is to start with at least one fairway, with most golfers choosing the 3 and 5-wood options. In regards to model type, the fairway is made from steel and the heads do not need to be as large as your driver does. Fairway woods are available in both steel and graphite shafts with graphite being favoured at this level. Flex at this level should be regular for an average male and for senior or ladies an A flex or ladies flex is best.
If you're a high-handicap golfer looking for the best fairway options, the Cobra Golf King LTD Black Fairway Wood, Callaway Golf GBB Epic Fairway Wood, Wilson Staff D300 Fairway Wood, Titleist 917 F2 Fairway Wood, TaylorMade M2 2017 Fairway Wood and Cobra Golf King F7 Black Fairway Wood are all ideal additions for your golf bag.
Mid-handicap fairway woods
Playing at mid-handicap, you should already be proficient with the fairway wood, but perhaps still lacking in a few key areas.
If the golf club you are using is still an entry level model, then consider ditching it in exchange for an upgrade that's more testing. Also, if you have seen an increase in swing speed, then check the flex you have is still sustainable, as slightly stiffer ones could give added improvement to control and get you a lot more par 5's.
Golfers with a mid-handicap should consider using the Callaway Golf X Series 416 Fairway, Cobra Golf Fly-Z XL Fairway Wood, Wilson ProStaff HDX Fairway Wood and Callaway Golf XR 16 Pro Fairway Wood for the best results on the green.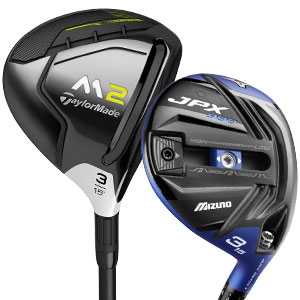 Low-handicap fairway woods
At this level, you should know already which fairway wood is best for you. It may still be worth looking around, of course, as golf brands are always evolving. Using golf clubs with Tour specifications will also benefit players in terms of better golf ball flight and control. Keep an eye out for these specs and give them the chance to show you what they are capable of achieving.
The TaylorMade M1 2017 Fairway Wood, Mizuno Golf JPX900 Fairway Wood, Callaway Golf GBB Epic Sub Zero Fairway Wood, Titleist 917F3 Fairway Wood and PING G Tour 80 Fairway Wood are all good options for low-handicap golfers.