The OnlineGolf 2018 Buyers Guide to Golf Waterproofs
Unpredictable weather is a fact golfers must face during a game, especially in the UK. But that doesn't mean we can't still have a good time in the rain, right?
Waterproof clothing is essential outwear for golfers in rain or sunshine. Wearing waterproofs will bring with it some great rewards. With this sort of attire, you can play anytime, in any weather. And play comfortably.
Types of waterproof protection
In this section, we talk about the different waterproof clothing materials available which golfers can wear in preparation for their round.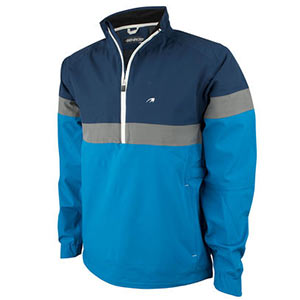 Waterproof
Waterproof clothing, in its purest form, allows golfers to play in light, medium or heavy rain. Built with a water-repellence to provide ultimate dryness, waterproof clothing is available in jackets, trousers or a combination of the two. Consider getting waterproof clothing that is 100% guaranteed to keep players dry and warm – these are the absolute best options on the market.
It's also a good idea to check to see if the brand you want to wear is offering waterproof guarantees, as this can be a great investment on your part in the long-term.
Gore-Tex is the most common material used in waterproof golf clothing and is clearly one of the best fabrics on the market. It has a porous membrane either between fabric layers or laminated for a layer, while the membrane openings are small enough to exclude liquid water, but remains large enough to allow water vapours and air to fully circulate freely. This is a huge advantage when playing during extended rainfall.
Rainproof/Showerproof
Rain and showerproof clothing is the secondary form of wet weather protection. It is not made from Gore-Tex, so doesn't immediately have that tough outer-layer waterproofs are known for. Rainproof clothing is typically made from fabric that's treated with Teflon, meaning it keeps water from penetrating for short bursts, but does allow air through, which can wick moisture during long periods of exposure to poor weather. It is slightly more lightweight and less of an expense when compared to waterproofs, but does not guarantee total dryness in prolonged bouts of rain.
Types of golf waterproof clothing
This section delves deeper into what's on offer for golfers in 2017, and some of the best waterproof clothing ranges for adverse weather conditions.
Jackets
Jackets are the most used waterproof attire and are essential for players seeking upper-body dryness while maintaining the same level of flexibility to swing the golf club. Jackets are comfortable, eye-catching and easy to manoeuvre. They are designed to improve games in wet weather by being lightweight in construction and offering no movement restrictions. Other features include pockets, hoods, interior linings, adjustability and cuffs; all of which should be considered when preparing to purchase a jacket.
A selection of premium and new waterproof attires include the Under Armour Storm 3 Waterproof Jacket, Callaway Golf Liberty 2.0 Ladies Waterproof Jacket, Palm Grove Waterproof Suit, Galvin Green Arrow Jacket, Galvin Green Art Waterproof Jacket, Benross Hydro Flex Waterproof Jacket, PING Osbourne Waterproof Trousers, Stromberg Winter Tech Trousers, Calvin Klein Ladies Waterproof Trousers and FootJoy Hydrolite Rain Trousers.
Short-sleeve jackets
Short-sleeve jackets perform well in adverse weather and definitely offer more breathable, unrestrictive comfort. They're a popular choice among golfers; especially when playing in warm climates as the sleeves are cut off at the elbow. The reasoning behind this construction is that the longer the sleeves the more limiting the jacket is to the arms in a swing. Short-sleeve jackets may only be available as rainproof and not offer waterproof protection due to their unique design, so checking this is always beneficial.
Waterproof trousers
Golf trousers in waterproof form are often overlooked by golfers, even though they are just as essential as any wet weather jacket or top. The lower half of the body can be dampened quickly when cold, wet conditions set in, and this affects walking through rough grass or from water lying on the fairways. Most waterproof trousers will have elastic waistlines so they can be worn easily over golfing trousers.
A great range of waterproof golf trousers include the Calvin Klein Waterproof Trousers, Callaway Golf Liberty 2.0 Ladies Trouser, adidas Golf Climastorm Waterproof Trousers, Stuburt Vapour Waterproof Trousers, PING Tour Eye Waterproof Trousers, PING Frontier Waterproof Trousers and PING Typhoon II Waterproof Trousers.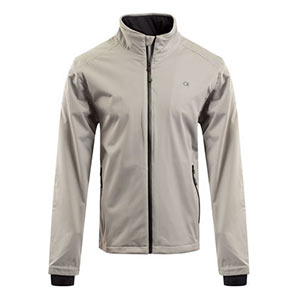 Caring for waterproofs
Immediately upon arriving home after a game you should remove waterproofs from your bag and wash them. This is to assure they dry faster and will not have a lingering smell that threatens to pollute your bag and everything inside it. Washing all waterproof gear is good not only for keeping them clean but also for taking pride in your attire. Pride in your looks means passion on the golfing greens. Tumble drying some waterproofs can be of benefit, too, as the heat makes the waterproof material tighter and more resistant to water. Read the label first, though, as not everything will react positively to being tumble dried.
View the full waterproof golf range today at American Golf, or browse all our brands, including Galvin Green, PING, Nike, adidas, Callaway, Benross, Stuburt, FootJoy, Sunderland, Under Armour, Calvin Klein, Palm Grove, Stromberg.