2018 Golf Trousers
Smart and stylish golf clothing doesn't come much higher recommended than a comfortable pair of trousers, and for golfers it is attire perfect for all occasions.
If you are looking for golf trousers there's a few points which should be considered before getting a pair for pars. They need to be warm enough to protect from adverse weather yet also remain cool in warmer weather; and they need to be stretchy to help with easy swing rotation.
Golf trouser styles
Playing outdoors, all players need to be adequately protected and comfortable in the clothing they wear. Although style isn't as important as warmth, it still matters, so best practice would be to look for trousers which offer both fashion and built-in technology as they will have dual purpose on the greens.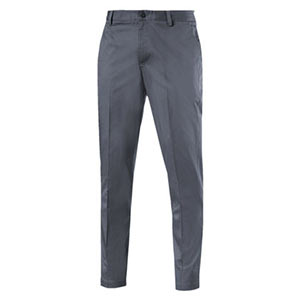 Wool golf trousers
Wool is a popular and frequently worn material. Due to its easy feel and outdoor capabilities, wool is breathable, lightweight in design and incredibly warm. It can withstand a variety of changeable weather conditions while still keeping its shape and performance.
Wool cleaning tips: Ideally wool should be dry cleaned and not washed conventionally as it can take away some of its splendour and performance.
Cotton golf trousers
Cotton offers amazing breathability and can be paired nicely with spandex to give greater stretchiness in the trousers. Cotton has also been known to pair up well with polyester for enhanced comfort.
Cotton cleaning tips: Cotton can be washed conventionally and should ideally be ironed.
Polyester golf trousers
Many golf brands already use polyester in their trousers. A very breathable fabric, polyester is often used in outdoor wear and fast-paced sports. Polyester gives enough stretch for comfort and shapes well to the body for closer performance in any weather condition.
Polyester cleaning tips: Polyester is washable in the conventional way and in most cases is wrinkle and pill resistant.
Linen golf trousers
Occasionally blended with cotton, linen is lightweight and breathable. It does wrinkle easily and is less durable, often requiring dry cleaning and may not last as long as others on the list but by choosing trustworthy brands and their products will at least benefit for the time it does sustain.
Microfiber golf trousers
Comfortable blends of synthetic fabrics such as nylon and polyester makes microfiber a real contender among choosing which is best for the golf course. It drapes nicely over the body and is breathable in all conditions, aiding play by making movement possible from any angle. It dries quickly and can usually be machine washed.
Finding the right fit
There are golfers out there who won't touch a pair of trousers if they lack the ability to add a belt, so choosing a style that has belt loops is considered good business. Some brands also add extra grip within the waistband to keep a polo shirt neatly tucked in when playing a round. Pockets are also necessary, this time for offering easy storage options for tees, golf ball markers and other accessories. Slit side pockets are common and have a flat, clean front. Rear pockets are usually slit with a button closure.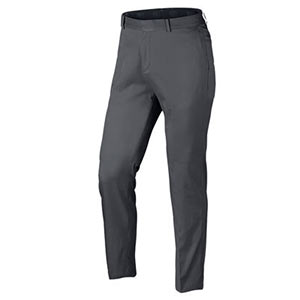 Additional golf trousers buying tips
The most important thing to always remember when purchasing golf trousers is quality and fit. The material needs to appear durable and weather-friendly, and seams should be sturdy and not contain gaps or bulges. The hemline should be clean and not contain frayed edges. If possible, try on the pair you want before buying as sizes do vary between brands, and some designs may run smaller or larger than expected. Getting longer trousers is better as they can be hemmed back whereas it's a refund if they are too short and more time is wasted in the process. When trying out a pair of golf trousers, exercise them to make sure they will perform right when the time comes. Swinging, bending and crouched movements will undoubtedly tell you everything about whether they offer good movement or fail to allow mobility. Check out reviews posted on the american golf website, too; fellow golfers who have bought may have valuable advice and tips about what they find best and this can be pivotal in deciding the right way to go in regards to choosing that winning pair.