Review: Titleist V1 & V1x Golf Balls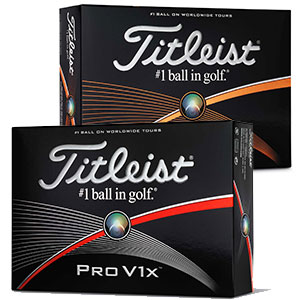 Titleist is the most used brand of golf ball on Tour by hundreds of top professionals around the world. The new Pro V1 and Pro V1x, which delivers extraordinary distance and always consistent flight, means that more players than ever before are enjoying excellent short game control, even softer feel and long-lasting durability.
The 2015 Pro V1 and Pro V1x golf balls have a new, patented thermoset urethane elastomer cover which delivers more short game spin and control off the green. The softer feel is simply incredible, while the golf balls reformulated cover system helps improve feel, sound and short game scoring control. The mix of old and new attributes instil a stronger confidence in players which is reflected in their individual game – we're not kidding, these golf balls rock!
Discover Exceptional Distance
The Pro V1 and Pro V1x golf balls work for all players thanks to being long for golfers of all skill levels.
Long with driver, irons and all other shots? Check, Check and Check!
Titleist asked: How can long and straight not benefit you? The answer, of course, lies in hitting a Pro V1 or V1x, as that is where the true brilliance of these balls really shines. Both the V1 and V1x provide exceptional distance on all shots for Tour players, semi-pros and amateurs. These balls don't care how skilful you are. These balls just want you to win.
Get these awesome Titleist Pro V1 and Titleist V1x golf balls today from OnlineGolf.