Review: Wilson Smart-Core Golf Balls
Maximise your distance and spin depending on the shot you've just hit with the intelligent Smart-Core formula of Wilson's brilliant new golf balls which actually react to your swing speed!
Smart golfers know they can only be as good as the equipment in their bag, and that's why so many players are making the switch to Wilson and the brands latest golf ball innovation – Smart-Core.
This is Intelligent Technology
The geniuses at Wilson have devised a golf ball that reacts to your chosen swing speed. On long shots, spin is minimised for greater distance and accuracy. On shorter shots spin is maximised to improve spin and control; Smart-Core lets you play your way.
Wilson Smart-Core golf balls are designed for long-lasting playability. The cover is constructed from a durable ionomer for performance in a range of varying conditions, meaning the golf ball will retain its sleek ability both on sun-drenched greens and rain swept fairways.
We could tell you all about our experiences playing with these spectacular Wilson Smart-Core golf balls, but we think you need to try them for yourself to truly grasp the incredible performance these little beauties pack.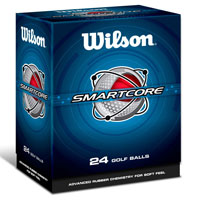 Get the Wilson Smart-Core Golf Balls today from OnlineGolf to guarantee delivery in time for Christmas. These golf balls make ideal stocking fillers or under the tree gifts, so why not give someone the gift of golf this festive season…
View the full range of Wilson Golf products, or check out other Wilson products from Wilson Staff and Wilson Deep Red.
And be sure to browse our full range of high-quality golf balls, of which we stock all the major brands including Nike, Callaway, Titleist, Srixon, Mizuno, Bridgestone and Pinnacle.