2017 Golf Gloves
Golf gloves provide a strong and stable grip to help players hit better shots on the greens. Wearing golf gloves can be a huge benefit for everyone's individual game, and are worn by almost every player around the world.
This buying guide will give you plenty of information about golf gloves and what to look out for when deciding which pair to purchase at OnlineGolf.
Wearing golf gloves
The correct way to wear a golf glove is on the lead hand (this is the hand at the top of the grip). For right-handed golfers, you will need to wear a left-handed glove, while left-handed golfers will require a right-handed glove. This is due to many golfers having their lead hand as their weaker of the two.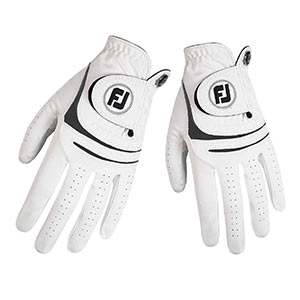 Finding the grip that's right for you
Always make sure to wear a golf glove which fits correctly, as wearing a glove that's too big will make the golf club twist in the baggy excess of material, thus reducing the effectiveness the glove has on the grip. Incorrect size can also lead to the golf glove rubbing and wearing out quicker, especially in the thumb and pad areas.
When choosing golf gloves, always make sure they fit as snug as possible, because over time they will begin to stretch. Tour players literally have to wrench their gloves off after a round, so when you first pull on the glove, you should only be able to pull the tab halfway across, which then allows for the glove to let up and become easier with time.
Selecting golf gloves
Right now the market is rich with golf gloves available for male, female and junior golfers. There are golf gloves for dry, wet and overcast weather conditions, so players can switch things up and never have to miss a game. And wearing a golf glove is going to help instill confidence in your game; below is a brief rundown of the various gloves we have available and their uses on the golf course.
Leather
A leather golf glove is tough, durable and offers excellent grip for all swing types. Gloves made from cabretta leather – the skins of sheep which have hair instead of wool – will perform better than most other gloves, and come highly recommended.
Cabretta leather is produced around the world, in areas such as India, China, South America and Africa. It has a very fine grain and strong fibre network which helps promote incredible strength, suppleness and softness of touch. It also has a natural elasticity which helps the glove to slide onto the hand and fit snugly. Leather gloves give the best possible grip in dry conditions, but aren't as effective in damp weather – they can become slippery and somewhat "greasy."
A selection of the best leather golf gloves available include the Nike Golf Tech Glove, FootJoy CabrettaSof Glove, Srixon Cabretta Leather Glove, Callaway Golf Dawn Patrol Glove and Bionic Stable Grip Glove.
All-weather
All-weather golf gloves promote higher performance standards, and are playable in a variety of weather conditions. All-weather golf gloves are made from synthetic material that adds strength to key areas of the hand starting to show wear and tear, whilst offering snug fit that suits the majority of players. And, if a golf glove can perform in sun, snow, rain and wind, then it's got to be a popular choice for the golf course.
Some great all-weather golf gloves available now including the TaylorMade All Weather Glove, FootJoy WeatherSof Glove, Callaway Golf Weather Spann Glove and Srixon All Weather Glove
Rain
conditions, and can keep hands entirely protected from the elements with built-in synthetic materials which do not allow any seepage of perspiration to get into the glove and onto hands. A rain glove does, however, falter somewhat in warmer weather, where it becomes more a burden than a help, and should be left at home when the sun is shining.
The FootJoy Rain-Grip Single Glove and FootJoy RainGrip Bonus Pack are good rain glove options, available now at OnlineGolf.
Winter
Winter golf gloves are made from man-made materials to keep hands warm and protected from cold weather. They are able to hold in warmth during a game and will assure fingers remain dry and toasty warm.