2017 Cold Weather Accessories
With unpredictable weather often high on the agenda in the UK, it's a good idea for golfers to be prepared for all eventualities. Cold temperatures can be especially hazardous, affecting your game in a variety of different ways, so avoiding the cold should be priority number one.
Our guide to buying cold weather accessories will help you find out what's available to you on the greens, and how best to utilise them in your game. Plus, we'll also throw in a few helpful hints and tips to help you play your best in even the most challenging of cold climates.
Winter Gloves
Thermal golf gloves will keep your hands warm and toasty on the golf course when the weather turns cold. In some conditions, the weather can be relentless and exceedingly tough on skin – causing players plenty of problems if they're not prepared for it. placing a pair of thermal winter gloves into your bag is good practice, and will serve you well in any weather, winter being chief among them.
Thermal golf gloves work to stop grip tension in the fingers when clutching your golf clubs, and also eliminate the awful tingling in the fingers that can occur so often when striking the golf ball with cold hands. Many top golf brands offer built-in technology in their golf gloves, and this is always worth checking out. For instance, a lot of golf gloves offer moisture management capabilities or 'wicking properties' that keeps perspiration away from the skin and instead pushes it up into the gloves fabrics and out into the open where it is quickly evaporated. A great way to keep you cool and dry without hassle, you don't even need to take off the glove to dry hands manually. Golf gloves are also generally hardened for the winter weather and will perform to optimal standard no matter how low the temperature drops.
If you're looking for some solid thermal winter golf gloves or mittens, a few suggestions would be the Motocaddy Deluxe Trolley Mittens, Srixon All Weather Glove, Callaway Golf Weather Spann Glove, FootJoy WeatherSof Glove and Under Armour ColdGear Gloves.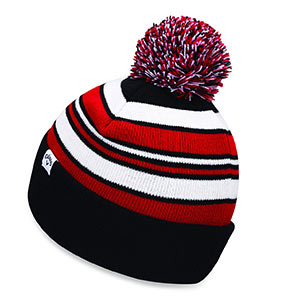 Golf Mittens
Cocoon freezing hands in an embrace of warmth on the golf course with a good pair of mittens. These help to reduce unnecessary tension in the fingers and joints, which can occur walking from hole to hole when the weather is icy cold.
Golf mittens will warm the entirety of the hand when worn and, though you cannot play while wearing them, they work brilliantly as a 'between-shots' burst of warmth. Some golf mitts are made with a soft interior fleece lining that circulates warmth around the hands without making them overheat, so once removed from the hand they will leave you dry and able to play the shot with relative ease.
Golf Beanies
Golf beanies lay close to the skull to allow more warmth to circulate around the head area when playing in cold weather. They are stylish, comfortable and good for any weather condition.
A golf beanie's main purpose is to protect the head from cold weather, and this is achieved by tight-fitting designs which hold firm, even while golfing or exercising. Often made from cotton or wool materials, beanie hats are ideal for golfers both on and off the golf course.
Some of the most popular golf beanie hats we stock include the TaylorMade Tour Beanie, Callaway Golf Knit Stripe Hat, Titleist Pom Beanie, Calvin Klein Reversible Knit Beanie and Cobra Golf Reversible Beanie, among other top brands and designs.
Golf Handwarmers
Place a handwarmer inside your pocket and enjoy controlled warmth from first hole to last. In icy conditions, handwarmers help to regulate heat around the pocket to give hands a burst of much-needed warmth.
Fun tip: Place a golf ball in your pocket with the handwarmer to warm the core of the ball so that it travels longer and further down the fairway when playing.