2017 Golf Trolley Bags
Trolley bags (also known as cart bags) are large bags that can be carried around on golf carts or buggies. They are also aimed predominantly towards older golfers who aren't too hot on the idea of lugging their full bag of golf clubs around the greens.
Trolley bags: Storage options, size and weight
Trolley bags are large, but not the behemoths like their Tour bag cousins. Trolley bags are bigger in size due to being able to carry complete set of golf clubs, while they can also be placed on a trolley and pushed around the greens.
Different brands offer various features and benefits, with some utilising the golf bags' size with a plethora of storage options, including the Callaway Golf Chev Org 15 Cart Bag 2017, Callaway Golf Org 14 Cart Bag 2017, Titleist 2016 Lightweight Cart Bag, PING Traverse G Limited Edition Cart Bag, Mizuno Golf Elite Cart Bag and Clicgear B3 Cart Bag. This gives players the ability to bring to the course with them waterproof clothing, valuables, rain hoods, golf balls etc. Trolley bags are also a lot more rigid than carry bags.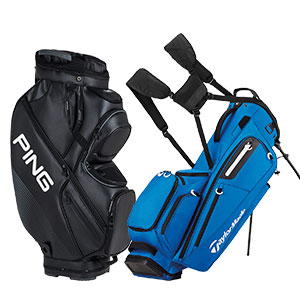 Premium golf trolley bags available now
Trolley bags have a tough inner lining which makes them hard-wearing and a decent amount water-resistant. Premium cart bags, such as the Sun Mountain H2NO Superlite 2017 Cart Bag, Sun Mountain H2NO Lite Cart Bag 2017, PowaKaddy Dri Edition Waterproof Cart Bag, BIG MAX Aqua Sport Cart Bag, Callaway Golf Hyper Dry Cart Bag 2017 and Titleist StaDry Cart Bag will last longer and give you a better chance of keeping golf clubs safe, dry and undamaged.
View our full range of golf trolley bags now, or shop for cart bags by brand, including Callaway, Motocaddy, Cobra, PING, PowaKaddy, Nike, TaylorMade, Titliest, Mizuno, BIG MAX, Sun Mountain, Fazer, ClicGear, Stewart, iCart.