2017 Manual Golf Trolleys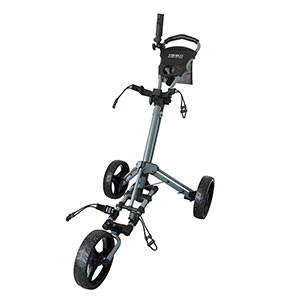 This buying guide for manual golf trolleys will give players all the information they need before purchasing, from choosing the best models, through to checking to make sure they maneuver in a way to make moving about the golf course easier.
What does a manual golf trolley have to offer?
Manual golf trolleys are designed to be ergonomically sound, meaning they epitomise comfort, stability and ease of movement on the golf course. Good trolleys usually consist of having a straight bar that is roughly running at around 45 degrees – and on which the golf bag can be supported at the base and top – and two rear wheels added for stability and movement. The pull-along handles have excellent support for the golfer, while a third wheel can also be used at the base of some trolleys to stop from titling and falling over.
Do you need a collapsible golf trolley?
Most manual trolleys these days have the added advantage of being foldable, which means you can store them easily inside your house when they're not in use. Some trolleys are rather large, which means they will take up a lot of space at home if the option to collapse them isn't available.
Getting a collapsible trolley isn't the most important aspect, but it will make a positive difference when it comes creating more space and making for easy storage.
Choosing the best wheel size for your trolley
Travelling on a variety of terrain during rounds can damage the wheels, and although most golf wheels placed on a trolley will roll without problem, especially on smooth ground, more rugged, savage parts of the course will offer more of a challenge to wheels which aren't prepared for a fight.
Larger wheel radius helps smooth out the humps and lumps of the course, and allow for an easier trek. However, small wheels also work well in most turf conditions, and will be extra useful on trails or hills.
A selection of very good golf trolley wheels include the Motocaddy Golf Hedgehog Winter Wheels, PowaKaddy Winter Wheels, Masters Golf Winter Hoppa Wheels, Masters Golf Hoppa Wheel Covers and BIG MAX Hedgehog Wheels.
Manual trolley weight
Push trolleys are lightweight in construction, making them incredibly easy to lift in and out of a car. Being this light means they can also be stored with relative ease, either on a high shelf or under the bed.
Similar to a push trolley, pull trolleys are incredibly lightweight and can be lifted with little effort. They are easy to traverse the golf course with and will not weigh players down when going uphill, nor do they need forcing forward when the course takes a sudden descent.
Some of the best manual golf trolleys available include the PowaKaddy TwinLine 4 Trolley, Clicgear Rovic RV1S Trolley, BIG MAX IQ Plus Trolley, Motocaddy M1 Lite Trolley and Stewart Golf R1-S Push Trolley.