2017 Electric Golf Trolleys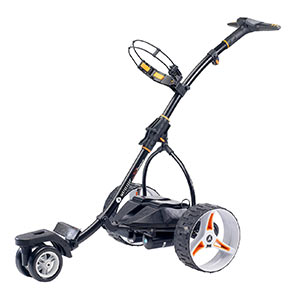 An electric golf trolley offer ease and comfort for the player that isn't necessarily available when using manual trolleys. This buying guide to electric trolleys will give golfers all the information they need before choosing their preferred model.
What is an electric golf trolley?
Motorised or electric golf trolleys are essential for golfers who struggle when pushing or pulling their manual trolley around the golf course, and are ideal for tech-savvy golfers looking for some serious technology. Electric golf trolleys are powered by an on-board motor and battery, with modern mechanical trolleys having to be steered in the correct direction. These trolleys generally need little to no effort from the player, nor do they need to understand the mechanics of working them. The battery is chargeable with many lasting between 18 and 36 holes.
When using electric golf trolleys on the greens
Electric golf trolleys are very powerful machines, able to manoeuver about the golf course while carrying a full set of golf clubs over almost any terrain--including hills and inclines. Electric trolleys are battery operated so players need to recharge them after around 18-34 holes, depending on the model of the trolley.