2017 Golf Socks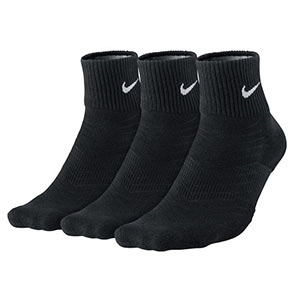 Wearing golf socks on the greens can help players feel more comfortable, and will also help ease underfoot strain. They will even keep feel toasty warm from first tee to last.
What makes golf socks a better alternative to just any old pair lying about in your bedroom draw? Well, there's a few reasons for golfers wanting to purchase golf socks, chief among them being an added layer of comfort and protection which regular socks do not offer.
Golf socks offer padding and support for the heel and forefoot, add warmth to the toes on cold mornings, and can supply a little style to an otherwise blasé ensemble. Basically, if you love your golf but hate getting cold feet on the golf course, get yourself a pair of golf socks!
Golf sock technology
One of the main reasons golfers like a pair of warm, comfortable socks designed for the greens, is the technology they offer. Every pair of golf socks need to at least keep your feet warm and protected in cold weather. If they aren't achieving even this tiny feat, then unfortunately they need to be thrown away. Socks not offering any kind of outdoor performance aren't worth wearing and you'd be better off just playing a few rounds barefoot.
Golf socks won't deliver the same level of performance as, say, a golf shirt or trouser, but they can offer some excellent moisture-management or wicking capabilities. This means that your feet will not overheat when playing a round in warm weather, nor get too chilly in the cold. The materials suck out the moisture when you perspire and quickly force it up and out through the fabrics where it is evaporated. This keeps your feet cool, dry, and smelling fine. There isn't a better technology for golf socks than moisture management!
A good selection of the bet golf socks are available at OnlineGolf, and some of our customer favourites include the Callaway Golf Tour Cotton Socks, Callaway Golf Sports Crew Sock, Callaway Golf Sport Tab Low Ladies Socks, Callaway Golf Tour Opti-Dri Low Cut Socks, Palm Grove Anklet Socks, adidas Crew Socks, Nike Golf Dri-FIT Quarter Socks, Royal & Awesome Socks, FootJoy TechSof Crew Socks and FootJoy ProDry Extreme Crew Socks.
Comfort is key to better golf
Golf socks should be comfortable; this is the first point every athlete should look for when buying. So, unless you're an Olympic swimmer (in which case why are you looking for sport socks in the first place!), then checking for comfort is paramount to anything else.
The key to comfort is all about looking for golf socks that offer padding on the soles and heels, do not force your toes back when you wear them, and which can offer moisture-wicking capabilities.
Fashion for the feet
We know that looking good isn't going to do anything to change your golf game, but that doesn't mean we don't still want you looking dapper on the greens. A lot of golfers will already have a good idea of what they want to look like and will naturally find what works for them attire-wise. But if you're just not that bothered about fashion, or indecisive, then we've got a few handy fashion tips for you.
Golf socks should match your style. If you like wearing long trousers on the golf course then the socks you choose should represent this. What's the point in pulling on ankle-length socks if all you are going to do is wear long trousers and cover them up? It won't keep you warm and it'll look very much out of place on your person. Long socks are the way to go with long trousers as they do the same job and look smart.
For golf shoes, light-coloured socks with white or saddle-style shoes and black socks with black shoes are among the best combinations, though this is a personal choice and you are free to wear whatever you want.