2017 Golf Sunglasses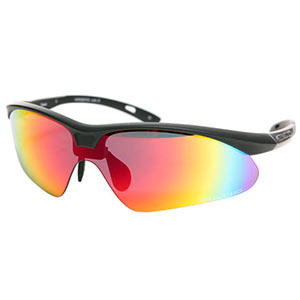 p>Golf sunglasses are one of the most underutilised clothing accessories in a player's wardrobe.
Golf sunglasses are made with special lenses which help keep sunlight out the eyes without diminishing your sight. They also help to protect the eyes from harmful UV rays, a constant concern for sportspeople.
Golf sunglasses can be worn in any weather, and are acceptable eyewear throughout the year. Predominantly, a player will don some snazzy eyewear in warm weather to avoid glare from sunlight interfering in their shots.
UV protection
Golf sunglasses should be considered by golfers to avoid UV damage to the eyes when playing in hot weather – especially if the game is being played abroad where the weather is extremely humid. Some golf sunglasses lenses offer shades which will protect the eyes by diverting away glare. This helps the player to both see better as well as avoiding causing unnecessary harm to their eyes.
Shade switching
Most golf sunglasses allow players the ability to remove the lenses and replace them with different, more suitable ones, which match the condition which is being played. A good example of this is golfers hitting from the tee in the shade and wanting to switch their lenses to accommodate more lightness into their line of vision. Other golfers might be looking to tone down the brightness. Every player is different and will have their preferred lenses for playing.
Lens options
When it comes to choosing the best golf sunglasses, checking out the various coloured lenses can make a big difference to individual performances. It pays to take time and explore your options here. You might need more than one lens for a variety of outdoor conditions.
Copper Lenses: Helps to improve depth perception, can cause some colour distortion but will increase colour contrast to make fairways more distinct in various conditions.
Yellow Lenses: Perfect for cloudy days. Reduces glare and improves contrast by utilising a darker tint to enhance visual sharpness.
Grey Lenses: Ideal in bright, sunny days. Blacks out bright light and helps to keep colours true. Perfect for golfers who do not like sunglasses which distort colours.
Amber Lenses: Blocks out orange light and increases contrast of green colours. The ideal choice for changeable weather conditions.