2017 Golf Shorts
Now widely accepted on the golf course, golf shorts have gained a following by amateur and professional golfers who like to feel breeze on their legs during a round.
This OnlineGolf guide to buying golf shorts will explain the technology, design and styles available, and the best golf shorts on the market today for golfers looking for an alternative to traditional golf trousers.
Golf shorts technology
Rule of thumb dictates that picking clothing which says it has 'moisture wicking' capabilities will drastically improve their experience on the greens. Moisture wicking is the predominant technology in golf clothing, and golf shorts benefit from this as well. The moisture wicking works by sucking perspiration away from the skin and pushing it out through the fabrics, leaving you feeling cool, dry and comfortable from start to finish.
Moisture wicking offers athletes' cool, unhindered performance that keeps you dry and comfortable in hot, cloying weather. It also works in cooler weather, too, as the more you play the more you are likely to perspire. Moisture wicking catches the sweat that you exude and promptly forces it up through the fabrics and onto the outside of the attire, where it is quickly evaporated. This leaves you to perform to the same standard without worry of feeling uncomfortable or overheated.
The Nike Golf Flat Front Shorts 2017 , PING Kane Shorts , PUMA Golf Essential Pounce Shorts , adidas Golf Ultimate Shorts and Callaway Golf Chev Tech II Shortswill all really improve your comfort and performance.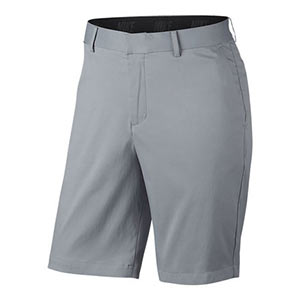 Golf shorts designs
Check your golf shorts have sufficient storage options for placing ball markers, scorecard trackers and the like, unless you aren't worried about leaving them in your bag or jacket.
Golf shorts are available in many materials, with polyester and cotton being both the most popular and most common. The issue with cotton, however, is that it will make you very warm and so can cause perspiration while playing.
Golf skorts
Skorts are skirts designed for female golfers, and they help make movement on the greens a lot easier than tight-fitting trousers. Some skorts will have a level of moisture-wicking properties, so female golfers can enjoy their game in total comfort.
A selection of the best women's golf skorts can be found right here at OnlineGolf, and includes the Green Lamb Terri Ladies Skort, Green Lamb Trady Patt Ladies Skort, Daily Sports Nell Ladies Skort, Calvin Klein Printed Rib Top Ladies Skort, GOLFINO Techno Stretch Ladies Skort, Galvin Green Nora Ladies Skort, adidas Golf Ladies Skort, Royal & Awesome King of Diamonds Ladies Skorts, PING Domenique Ladies Skort and GOLFINO Techno Stretch Ladies Skort.
It's never too early to pull on a pair of comfortable golf shorts, and there's a wealth of option available to you. New and popular golf shorts are available today from OnlineGolf by all the biggest brands, including addias, Nike, PING, Galvin Green, Daily Sports, FootJoy, PUMA, Stromberg, Palm Grove, GOLFINO, Calvin Klein, Under Armour, Callaway, Royal & Awesome.