2017 Golf Shoes
Developed by some of the biggest brands in world golf, footwear has grown from simple comfort and evolved into cutting-edge, performance-driven attire for all weathers and any style.
Whether you are a casual or full-time golfer, purchasing golf shoes should be taken with total seriousness. We have a huge range of golf shoes at OnlineGolf for men, women and junior golfers, with some truly gorgeous new ranges for this season and beyond. So once you've read this buying guide, simply hop over to the golf shoes section of our website and take a look at what we have to offer.
Choosing Golf Shoes
This section details what golf shoes are available, their benefits and the type of golfer who would get the most from wearing them on the greens.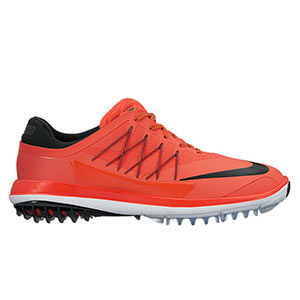 Street shoes
The new kids on the block in 2014, street shoes are now a popular choice for golfers. Street shoes look and feel very much like regular, everyday trainers that are designed for the golf course. Street shoes have a high-level of comfort with low-profile construction and are very lightweight. The flat-soled bottoms utilise dimpled soles in place of standard golf spikes, although you can also get rubber studs from certain brands. A big reason why so many golfers are choosing the street shoe as opposed to more traditional varieties is how good they perform when tackling pain in the back and foot, a common problem among golfers.
If the street shoe has a drawback it would be the lack of turf traction afforded to the wearer. Lining up shots is not going to be as easy due to the rubber soles not gaining the same level of grip that metal does, and so playing on uneven surfaces will reflect this. On top of this they are not 100% waterproof and so should not be the first thing to choose when bad weather sweeps the greens. Wet or long grass is also a poor surface for street shoes.
ECCO has a monopoly on street shoes and is the go-to brand for the best comfort in this particular design. Some of the new releases for all brands include the FootJoy Contour Casual Shoes 2017, ECCO Golf Cage Pro Shoes, Nike Golf Lunar Control Vapor Shoes, adidas Golf Climacool Street Shoes, Stuburt Urban Grip Shoes, FootJoy Pro/SL Shoes and PUMA Golf Grip Spikeless Shoes among others.
Boots
Compared to classic and street shoes, boots are still a rarity for the most part, however they are just as comfortable in design and stylish in looks to compliment any attire. Boots are the protection from adverse weather many golfers are reaching out for and look similar in looks to a boot you might use when hiking in mountain ranges. They offer a high level of waterproof capabilities and great traction on turf, adding warmth to the feet and toes during winter months. Boots have a thick waterproof material which is draped to cover the entirety of the footwear to create a cocoon of total warm bliss.
Golf Shoe Materials
In this section we examine the different types of materials in golf shoes and determine which is best for every situation.
Leather
Bar none, leather is the number one best feeling golf shoe on the market today. It's an outstanding option for almost any golfer and the majority of shoes are available in the material. Processed and then added to the exterior of the golf shoes, leather creates stretch-free and tight-fitting waterproofing that's perfect for weather of any condition. Summer months are especially beneficial to golfers as the leather is more breathable than other materials and leather shoes usually have a saddle design that stabilises the surface of the shoe to keep golfer balanced and comfortable at all times. A manufacturer's guarantee of between one to two years is often available and should be taken up – leather is not cheap and any cover you can get should definitely not be scoffed at.
Polyester Lining
The cheaper yet just as performance-enhancing as leather, polyester lining is used rather than a material to cover the golf shoe. It's nonporous polyester that is spread over the golf shoes and this works to lend excellent protection to the outer shell. Polyester lining is lighter and thinner than leather. Plus it delivers, too.