2017 Golf Caps, Hats & Visors
Golf headwear will keep sunlight out of your eyes, and help you achieve an unhindered performance on the greens. OnlineGolf has a great collection of headwear to suit the needs of every player.
Golf Caps
The most commonly-worn headwear are golf caps, which offer excellent protection from sunlight to help reduce the sun from burning heads on hot days. Golf caps have long bills protruding out in front to deflect unwanted sunlight glinting off the face of the golf club, or getting in your eye-line when lining up that crucial putting swing. Some now even offer variations of waterproof protection in rain. Golf caps are predominantly one size fits all and will snap over your head without hassle.
The Under Armour Headline Cap, Callaway Golf Liquid Metal Cap, PING Tour Light Cap, Under Armour Jordan Spieth Tour Cap, Oscar Jacobson Franc Cap, Wilson Staff Tour Mesh Cap, PUMA Golf Flexifit Fitted Cap, Nike Golf Classic 99 Cap, TaylorMade Casual Cap and GOLFINO Micro Earflap Ladies Cap are just some of the most popular golf caps available from OnlineGolf today.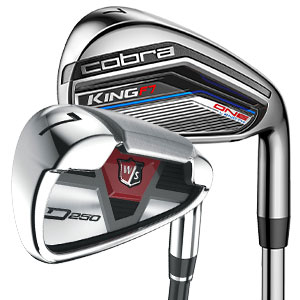 Golf Hats
Bucket hats are popular headwear, and offer similar benefits to caps. Bucket hats work in all weathers and keep golfers' heads protected in rain, while creating a cool layer over the head in sunshine. Bucket hats are often made from waterproof materials, and the shade they offer from sun is second to none, making them the first choice in the hat category.
The Titleist StaDry Bucket Hat is very popular among golfers.
Golf Visors
Some may call the golf visor 'middle ground' headwear because it offers a little of both worlds. Open-topped with large bill at front, the visor is the ideal protection from glaring sunlight. It will keep the eyes clear, despite the warmth, and some variations now offer moisture wicking capabilities, too.
A great selection of golf visors include the GOLFINO Printed Cable Ladies Visor, Daily Sports Magic Ladies Visor, Callaway Golf Clip Ladies Visor, Palm Grove Ladies Visor, Daily Sports Miracle Ladies Visor, GOLFINO Cable Striped Ladies Visor, Titleist Ball Marker Visor Titleist Pink Ribbon Ladies Visor, Green Lamb Darcy Diamante Ladies Visor and Titleist Sports Performance Ladies Visor.
Beanie Hats
Often made from polyester or cotton, golf beanies protect the head from whipping winds and chilly mornings. Contrary to other headwear in the range, beanies not only protect the head but also cover the most sensitive parts of the head – the ears. A golfer can find playing outdoors for long periods at a time begins to hurt the ears even in warm weather, so carrying a beanie hat can be vital for staying healthy.
Beanie hats are snug and close-fitting, making them perfect for sports and everyday wear. In strong wind, they remain firm, and can be worn anywhere away from the golf course due to their impressive, stylish design.
Popular beanie hats include the TaylorMade Tour Beanie, Nike Golf Reversible Knit Beanie, Cobra Golf Reversible Beanie, Callaway Golf Knit Stripe Hat, Under Armour Elements Storm 2.0 Beanie, Cutter & Buck Reversible Beanie Hat, Palm Grove Pom Pom Beanie, Green Lamb Dorothy Cable Ladies Hat, Palm Grove Cable Stitch Ladies Beanie and Titleist Jacquard Beanie .