2017 Golf Shoe Bags
Golf shoe bags are the best way to keep your car or home mud-free after accumulating dirt underfoot while playing a round on the golf course. Shoe bags are useful for making certain no muddy footprints get walked into a new clean carpet; they help protect golf shoes from damage, and even double as a secure storage option for shoes as well.
This OnlineGolf buying guide will give you every detail about using golf shoe bags – great if you're not in the habit of constantly washing down upholstery and carpets.
Golf shoe bags make excellent storage options
Golf shoes can take a beating on the greens. Usually a round will end with them encrusted in mud and scuffed from heel to toe, so a pair of shoes will not come out looking clean and crisp, especially in adverse weather conditions. So, throwing them in the back of a car is not going to do much good, and will likely result in damaged footwear and a hefty cleaning bill. To avoid this, golf shoe bags have been introduced. They are small enough to carry, will sit perfectly in the boot of the car, and can accommodate any shoe sizes provided your feet aren't abnormally large. Golf shoe bags aren't big on technology, but they don't need to be; working just fine storing shoes and keeping mud from your home.
We stock a great range of golf shoe bags at OnlineGolf, with some of our customer favourites including the adidas Golf Shoe Bag, Callaway Golf Drawstring Shoe Bag, FootJoy Nylon Shoe Bag, Srixon Shoe Bag, Callaway Golf Clubhouse Collection Shoe Bag, FootJoy Canvas Shoe Bag, Nike Golf Departure III Shoe Tote, PGA Tour Accessories & Shoe Bag, ECCO Ladies Shoe Bag and Fazer Golf Shoe Bag.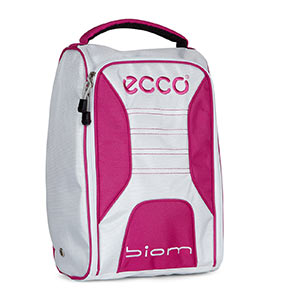 Shoe Bag design variants
Golf shoe bags should be able to accommodate most sizes of footwear. Often a golf shoe bags construction consists of full-length zippered compartment with separated block compartment for additional storage. Some shoe bags have vented lining or mesh which allows odours to escape through the fabrics – leaving golf shoes smelling fresher and ready for next use.
Additional features & important information
Some golf shoe bags come with an extra compartment or two for brushes or similar items, while golf tees, golf gloves, shoe laces, ball markers and shoe polish can also be put into a shoe bag before a game.