2017 Golf Accessories
Accessories should be in every players' golf bag. With so much option out there, from umbrellas and golf ball retrievers, through to ball markers and pitchmark repair tools, we're sure there'll be something here for you to put in your bag, too.
Golf Towels
Almost every golfer owns a golf towel. And if you don't, then you should! They are predominantly made from velour cotton or jacquard, and can be easily attached to the side of a golf cart or bag for use in wiping golf clubs clean before, during and after a round. Towels are good at removing dirt and water from golf clubs when playing in poor weather conditions, but they are not a replacement for proper maintenance. Quality versions of golf towel is the Tri-Fold, which is small and very durable.
The Callaway Golf TriFold Towel, Cleveland Golf Tour Towel, PING Tri-Fold Towel, Clicgear Towel, Wilson Staff Microfiber Trifold Towel, Mizuno Golf Tri Fold Clip Towel, BIG MAX Quick Lok Towel, Cobra Golf Tri Fold Club Towel, PGA Tour Towel and Fazer Towel are some of the best golf towels on the market today.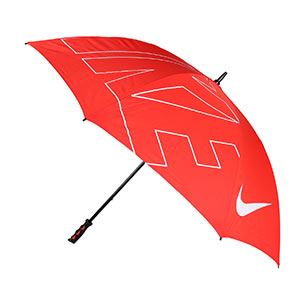 Umbrellas
Umbrellas are the perfect protection from rain and snow. Easy to attach to a golf bag where they will remain through strong winds, they keep golf clubs safe and dry. Umbrellas will not turn inside out when the wind is very strong, either, and even vary considerably in width (measuring up to 64" in diameter). The longer the golf umbrella, the more area and scope there is for it to shield from bad weather.
Some of our best golf umbrellas, recommended by customers and pros alike, include the PING Double Canopy 68" Tour Umbrella, TaylorMade Single Canopy Umbrella, Motocaddy Clearview Umbrella, Callaway Golf Great Big Bertha 64" Umbrella, Wilson Staff Umbrella, Mizuno Golf Twin Canopy Umbrella, PowaKaddy Wind Safe Umbrella, BIG MAX I-Dry Aqua Umbrella, Sun Mountain H2NO Dual Canopy Umbrella and Nike Windproof SC Umbrella VII.
Ball Markers, Hat Clips & Pens
Golf ball markers are small, flat, coin-like objects that mark the position of a golf ball when it has been lifted on the putting green. They are placed directly behind the golf ball before it is played and then replaced back in front of the ball marker again. Some golfers use real coins instead of a ball marker but as the real ones are so cheap to buy there really isn't all that much point.
Finding ball markers that have slipped from sight down the back of a trouser leg can cause all sorts of bad language, which has prompted companies to introduce the hat clip. The hat clip is very simple in its invention and can be clipped onto a visor or hat in a matter of seconds. The ball marker is then placed underneath the hat clip and snapped in place where it will remain until needed again. Hat clips can also be attached to gloves, shoes, polo shirt collars and zipper pulls.
Pens are useful for jotting down scores on the golf course and, although pencils are ok, they don't have great visibility in poor lighting. Sharpie pens are much better and brighter, available in a variety of colours such as green, red, orange and black, and are cheap and cheerful, too.
A selection of the best golf ball markers include the Asbri Golf Set of 5 Ball Markers, Emoji Poker Chip Ball Markers, Odyssey Poker Chip Ball Markers, Masters Golf Neon Ball Marker and Masters Golf Poker Chip With Magnetic Ball Marker.
Pitch Mark Repairers
A soft golf course is a given these days, and that is down to the fantastic work done by those who run the golf courses and clubhouses. Any golfer who plays regular enough will have come across the trouble when turf flies from the ground after a poor swing, which is unfortunate. The rule of the land is that you should fix this if it happens so to give everyone a good standard of course on which to play. That's where the pitch mark repairer comes into play.
Pitch mark repairers should be used after every round to maintain the golf courses pristine condition. The right way to use the pitch mark repairer and keep the greens looking fresh is simple. Firstly, discard the loose piece of turf taken up from the ground. (Do not try to reinsert the turf as it will die anyway and this slows up the healing process quite badly.) Next, insert the pitch marker tool just outside of the back of the pitch mark and lever the turf towards the centre of the pitch mark. Repeat this motion from all sides of the pitch mark and then gently tap the repaired area with the putter. This action stretches undamaged turf over the pitch mark, providing instant recovery.
Types of pitch marker vary slightly from one to the next but the most commonly used is the pitchfork. Pitchforks are made from stainless steel, are fully retractable and come in an array of designs and patterns.
Some of the best pitch mark repairers we stock at OnlineGolf include the PGA Tour Pro Golf Multi Tool, TaylorMade STAR WARS Divot Tool Set, Masters Golf Deluxe Pitchfork, Masters Golf DLX Switchblade Repairer and Asbri Golf PitchMaster Repairer Range.
Golf Ball Retrievers
Golf ball retrievers are used to recapture lost or misplaced golf balls which have fallen into water hazards, deep rough and sand traps that are out of reach. Some of the models used by golfers include a telescopic extension that reach up to 4.5 metres in length and are able to lift the golf ball from water thanks to a swivelling cup attached at the top. Others include a vacuum-like model that sucks the golf ball upwards into the bag for easy collection and thinner tubes that pull the golf ball up and then drop it when a safe distance from the hazard.
Golf ball retrievers include the BIG MAX Pocket Ball Retriever, PGA Tour Telescopic Ball Retriever, PGA Tour Practice Ball Collector, Masters Golf Black Widow Golf Ball Retriever and Masters Golf Butler Pick-Up Aid.